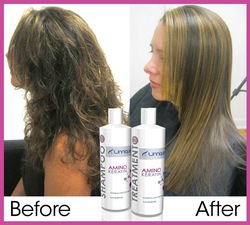 "Women can now enjoy the smooth, straight and healthy hair they've dreamed about without the fear of being exposed to any harsh chemicals, toxins or formaldehyde," said Ricardo Rahme, sales director for Unnique.
Miami, FL (PRWEB) March 8, 2011
Unnique today announced the launch of its 100% formaldehyde-free hair treatment, Amino Keratin. A first of its kind in the beauty industry, the non-toxic keratin treatment can be applied on children ages 12 and older as well as pregnant or nursing women. Formulated with nano particles of an exclusive blend of amino-acids, the treatment helps reduce frizz, straightens and heals the hair and is completely safe to use on all hair types.
The formula of Amino Keratin is designed to add shine and manageability to frizzy, curly hair by naturally relaxing and smoothing each strand. Amino Keratin is also non-irritating, does not cause allergic reactions and can be reapplied frequently without modifying the hair structure or causing any damage. The results of Amino Keratin last between six to eight weeks and can be reactivated by heat, compared with other keratin treatments that last 12 to 16 weeks but contain formaldehyde.
"After all the negative press surrounding the infamous formaldehyde-laden versions keratin treatments, we are proud to offer consumers a completely safe, 100% non-toxic yet effective keratin treatment," said Ricardo Rahme, sales director for Unnique. "Women can now enjoy the smooth, straight and healthy hair they've dreamed about without the fear of being exposed to any harsh chemicals, toxins or formaldehyde."
Amino Keratin can be applied to all hair types and is compatible with any and all chemical bases. In addition to the actual treatment with serine nano particles, the kit comes with a Deep Cleansing Shampoo to prepare the hair. The treatment is applied similarly to standard keratin treatments except it can be applied to the root of the hair since the formula is free from any harmful chemicals. For an application demonstration video, visit http://www.unnique.com/en/videogallery
Unnique's Amino Keratin treatment is available for purchase in a 16-oz bottle for $160. The average treatment uses one to three ounces of product depending on the length and thickness of hair. Amino Keratin is a professional hair product and should be applied by a licensed hairdresser in order to achieve maximum results. For a complete list of retailers or to learn more about Unnique's line of products, please visit http://www.unnique.com
###