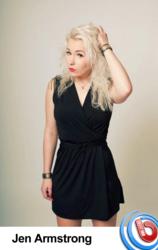 Beat100 is pleased to be able to showcase such incredible talent and we're anxiously awaiting future releases from Jen and other talented Artists and Musicians
(PRWEB) April 19, 2012
Jen Armstrong is one of the best vocalists to ever grace the Beat100 music video charts the incredibly talented Jen Armstrong. Beat100 is always keen to promote bands and solo artists but it's seldom that a solo artist manages to catch our attention in the way that Jen's enigmatic and imaginative cover of wild ones by Flo Rida manages to.
Solo pop singers are something of a dime a dozen so it's very refreshing when people come across someone with actual unique talent. Jen's style is often more pop/rock influenced than simply pop. However, Jen's beautiful talent on the piano means that she can take to a diverse range of genres and the cover of the Wild Ones is very much a pop ballad re-telling of a club favourite.
Familiar with the original Flo Rida song the wild ones then people know that it's very much a club anthem. There's a beautiful vocal intro and chorus but the song retains a clubbing, exciting and energetic vibe. Jen Armstrong's cover strips away the beats, the clubs, the bling and the bang to leave people with what is ultimately a much more gentle and beautiful pop ballad.
Covering pop and club songs in a more melodic and gentle style has become very popular in recent years thanks to artists like Birdy who have managed to reinvent already great songs and give them a unique edge or twist. Unfortunately though this has meant we have seen a slew of terrible covers of often terrible songs that have failed to even come close to the original. Thankfully Jen's cover of the Wild One's manages to avoid being "just another pop ballad" and brings something soulful and sweet to the song. The piano melody brings a great feel to the song but it is the vocals of Jen that really shine through. Jen's voice captures some incredible highs and lows while building a serene momentum and capturing something unique that was missing from the original.
Jen Armstrong has been writing and performing music since the age of 12. Jen normal repertoire remains heavily pop/rock with catchy lyrics and incredibly powerful vocals. Jen's incredible talents on the piano gives a unique style and means that Jan can turn her hand to a wide variety of genres and songs with impeccable skill and precision.
Beat100 is pleased to be able to showcase such incredible talent and we're anxiously awaiting future releases from Jen and other talented musicians and unsigned bands.
It's been a great month for Beat100 and the competition for the music video charts is incredibly fierce and we're anxiously awaiting the results of our $1000 monthly competition. As part of our dedication to music promotion it's really good to see beat100 is attracting some of the best new talent from around the world already. With such great entries to the charts we're anxiously awaiting beat100 next live event which will take place in London next month and will showcase some of the best emerging unsigned bands and talent on offer.