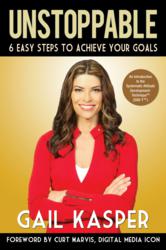 "Gail's unique approach will give you no alternative except the successful attainment of your goals! - David Thomas, Starbucks Coffee Company

"...Achieve far beyond what you believe to be possible." - Curt Marvis, Digital Media Icon
Cherry Hill, NJ (PRWEB) December 27, 2011
Television personality, author, and one of the nation's leading speakers Gail Kasper shares 4 guaranteed fool-proof tips from her book Unstoppable: 6 Easy Steps To Achieve Your Goals, to help Americans become Unstoppable in life! With the New Year upon us and many people struggling to achieve their personal and professional goals, whether it's due to the economy or they are challenged by their own limitations, Gail shows us, through her revolutionary Systematic Attitude Development-Technique ™(SAD-T™), a practical yet simple solution to help people escape roadblocks and reach the extraordi-normal life they deserve. Whatever life's issue, weight issues, relationship breakup, job loss, job stagnation, or failed dreams, people can find themselves held hostage by emotion, unable to take the necessary steps to move forward. This revolutionary plan provides the tools to escape the self-imposed constraints to live life's potential. So what is extraordi-normal? Extraordi-normal is the superior, or extraordinary level of life that becomes the new normal when implementing SAD-T™ in everyday life.
UNSTOPPABLE'S TOP 4 TIPS TO GOAL ACHIEVEMENT…
1. A Steel Team - Many people attempt life's goals alone, unaware that help is out there and thinking that they have everything under control. Yet as the years pass, they continue to struggle, never realizing their ultimate potential. These individuals don't understand that a critical element in goal achievement is support from others, which can help propel them forward. The steel team is defined by the acronym FAMILY - Friend, Associate, Mentor, Instructor, Loved One, and You. Why should the road be any harder than necessary? As Gail Kasper vividly explains, "There are no points scored for doing it on your own or eventually figuring something out."
2. Attitude Resilience (TAD, The Attitude Determinator) - People must accept responsibility for where they are now in order to get to where they want to be. Ask this question: "Are you able to be truthful with yourself?" Once people acknowledge their traits, good and bad, and the reality of their life and the situations these traits have created or contributed to life (finances, relationships, work and health/fitness situations), they can then accept responsibility in the making of a new life.
To assess resilience, Unstoppable readers complete The Attitude Determinator™ (TAD™). TAD™ is a tool, a questionnaire, designed to help people understand exactly what resources, tools and support is required to develop resilience along with the ability to take action toward, and ultimately achieve, their goals.
3. Defining The Action Plan - The results of the TAD™ lead people to create their plan. They are able to assess whether they are in Survival, Basic Development, or Extraordi-normal Results Mode. Each of these modes establishes a starting point for development. Someon in the Survival Mode may be unaware of their strengths and talents. Someone in the Basic Mode may be aware of some of their strengths, but they are not utilizing them to the fullest. Ultimately, reaching the Extraordi-normal Mode is where individuals will find peace within themselves.
After establishing their foundation, people are ready to move forward with their life and goals through the development of an action plan.
4. Escaping Crisis Immobilization - Crisis is part of life. Whether we fall off track with regard to a diet or something more drastic such as experience the loss of a long-term relationship or a job, we must use SAD-T™ to get back on track. Immobilization can evaporate a dream. Through a summation of all steps and utilizing the ability to get logical versus emotional, this plan will help anyone take the steps to escape crisis.
Bio on Gail Kasper:
Gail Kasper is one of the nation's top speakers, a renowned Life Strategy and Group Performance Expert, author, television host, Certified Fitness Trainer, and Ms. Continental America 2008. The former Host of the "Ask Gail" segment for the Comcast morning show and a former Contributing Editor to Success Magazine's "Ask Gail" column, she is an in-demand television personality who has been featured on Inside Edition, The Today Show, FOX Business News, Oprah and Friends, and has even been the topic of discussion with Regis and Kelly. The current host of the Philadelphia Visitors Channel, Gail has made numerous appearances on network affiliates including ABC, FOX, CW11, Comcast, and CBS where she co-hosted the Emmy award-winning America's TVJobNetwork. Named a Top 40 Power Player, according to SJ Magazine and having produced exceptional results for executives, professional athletes, sports teams, Fortune 500 companies, and Ivy League universities, Gail has been featured on the cover of South Jersey Business Magazine as one of the top 25 women on the move. She is the author of Unstoppable: 6 Easy Steps To Achieve Your Goals and Another Day Without A Cage: My Breakthrough From Self-Imprisonment To Total Empowerment and several personal and professional development, and business programs. Gail provides life and business coaching to people across the country. Her advice and solutions range from personal situations that will improve relationships, to workplace dilemmas that will increase productivity and revenues. Gail is a member of the National Speakers Association and the International Association of Coaching. http://www.gailkasper.com
# # #