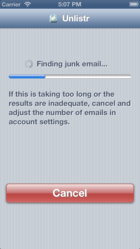 Over 80% of daily email is unwanted junk
Houston, TX (PRWEB) October 18, 2012
J&H Web Technologies introduces Unlistr 1.3, a first-of-its-kind app for iOS devices to help email users regain control of their inboxes. Using a patent pending algorithm, Unlistr intelligently finds junk email and allows users to mass unsubscribe in a few short steps. The goal of the startup is to address the growing problem of junk email overload, which affects anyone with an email address.
This opt-out app is compatible with iCloud, Me, Gmail, Yahoo, Hotmail, Outlook, Live, AOL and any other email server that supports IMAP or POP3. After confirming an email account's server settings and connecting via SSL, Unlistr provides a "scan" button to commence the unsubscribing process. When the scan completes, Unlistr displays a sorted listing of junk email that allows the user to select and automatically unsubscribe senders with one tap.
In addition to the basic features of scanning and unsubscribing junk email, Unlistr has several configurable options including multiple accounts scanning, scheduling, and sub-folder connectivity for IMAP enabled accounts. These advanced options increase the effectiveness of the app. For example, if a user has rules or filters that move certain emails into sub-folders (including the "spam" folder), Unlistr can be configured to scan those folders in addition to the inbox.
Unlistr 1.3 also introduces new features including iOS 6 and iPhone 5 compatibility as well as changes to the manual unsubscribe tool to allow landscape mode and form prefilling. The latest version also adds a help area and guide to assist users with setting up custom email accounts. Most importantly, the latest version updates the scanning and unsubscribing algorithm to make Unlistr's junk email removal methods more effective.
For security reasons, the native app installs on the user's iOS device and does not use an API or third-party server to process credentials or email data over the web. In other words, a user's privacy is assured since Unlistr computes locally on the user's hardware as opposed to using a remote server to store data. Credentials do not leave the user's device and no third party "access" is granted to email or contacts. The added benefit of Unlistr's localization is that it supports SSL access to any IMAP or POP3 based email server.
Unlistr is available for free and can be upgraded to take advantage of its advanced features. Unlistr is also available as a stand-alone pro version and is compatible with iPhone, iPod touch, and iPad. Requires iOS 4.3 or later.