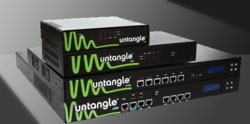 We think that the majority of present and future Untangle users will be delighted with this buying option. – Bob Walters, CEO
Sunnyvale, CA (PRWEB) March 07, 2012
Untangle, Inc., a network software and appliance company, today announced the release of a new line of appliances carrying its award-winning multi-function firewall software. The Untangle uSeries Appliances are the easiest path to deployment for organizations seeking a comprehensive, flexible answer to content filtering, performance management and perimeter security. The uSeries offers a choice of Untangle Standard Package or Premium Package, the trusted software application bundles already at work on networks worldwide.
The uSeries at a glance:

u10 and u50 are perfect for small organizations and branch or remote offices looking for a multi-function firewall with a small footprint. Thanks to their solid state drives (SSDs), they are nearly silent, which make them ideal for desktop deployment.
Securing over 30,000 networks and 2 million users worldwide, Untangle® offers best-in-class protection against the threats of viruses, spam, hackers and malware, alongside robust content filtering and application control – everything customers demand from a unified threat management (UTM) device. Untangle, however, also includes industry-leading performance enhancement capabilities with its Web Cache, Bandwidth Control, WAN Balancer and WAN Failover applications. Equally at home in small-to-medium organizations, campuses and remote offices, Untangle includes remote connection capabilities with its IPsec VPN and Captive Portal applications.
Availability and Pricing
All of these features are available for fast, plug-and-play deployment like never before. The uSeries Genuine Untangle Appliances are available online at untangle.com or through an authorized Untangle reseller. Prices start at $995.
Appliances are sold with an annual software license. Upgrade at any time from Standard to Premium at a pro-rated price. See untangle.com for details.
About Untangle
Untangle, a network software and appliance company, provides a new breed of multi-function firewall and Internet management applications that are optimized for the unique needs of smaller organizations. With a free multi-function firewall at its core and a suite of complementary Internet management applications, Untangle's superior solutions are available at the lowest upfront cost and are easy-to-deploy and manage. Untangle's proven network software solutions are installed in over 30,000 organizations, protecting more than 2 million people and their computers. With its try-before-you-buy approach, Untangle enables organizations to take control of their network within minutes and at no risk. Untangle is located in Sunnyvale, California. For more information, visit untangle.com or call (866) 233-2296.
PR Contact:
info(at)untangle(dot)com
Untangle, Inc.
Untangle® is a registered trademark of Untangle, Inc.
###