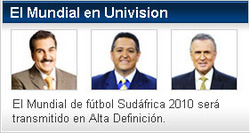 The FIFA World Cup Tournament is the most important sporting event for Hispanics bar-none
Miami, FL (PRWEB) March 24, 2010
Univision Communications Inc., the leading Spanish-language media company in the United States, announced today its extensive cross-platform coverage for the exclusive Spanish-language broadcast of the FIFA World Cup South Africa 2010™ - the most important tournament in international soccer and one of the most popular sporting events in the world. Broadcasting all of the event's 64 matches in High Definition (HD), Univision will be transformed into the U.S. World Cup destination leveraging its market-leading assets – Univision, TeleFutura, Galavisión, Univision.com, Univision Móvil, and Univision On Demand - to deliver a one-of-a-kind experience for its audiences with nearly 900 hours of comprehensive coverage. The World Cup on Univision will begin airing live on Friday, June 11th at 8am Eastern/7 am Central/5am Pacific. Univision.com will also have live streaming at http://www.UnivisionFutbol.com.
All games will be broadcast live across every time zone in the country and each will have a minimum 30-minute pre-kick-off segment. The opening match, both semi finals and the final match will have a one-hour pre-game show. Crews on-location in South Africa will bring soccer fans every exciting minute, beginning with player arrivals to the stadium, presentation of the teams as they come through the tunnel onto the field, warm-ups, pre-game interviews with the coaches, in-depth analyses and match re-caps. Univision and TeleFutura Networks' most popular programs including "Despierta América" (Wake-Up America), "El Gordo y la Flaca" (The Scoop and the Skinny), "Primer Impacto" (First Impact), "República Deportiva" (Sports Republic) and "Contacto Deportivo" (Sports Encounter) will feature special World Cup editions of their shows, highlighting the most exciting matches, exclusive and behind-the-scenes content, fan reactions, and cultural festivities around of all of the day's events. In addition, Univision's news teams, including "Noticiero Univision" (Univision News), "Aquí y Ahora" (Here and Now) and "Noticiero Univision Ultima Hora" (The Eleventh Hour) will also be on location to report on South Africa, its customs and the latest World Cup news. All of Univision Television Group's local stations across the country will also provide extensive news coverage of the World Cup in their afternoon and late night newscasts.
"The FIFA World Cup Tournament is the most important sporting event for Hispanics bar-none," said Alina Falcón, president of news, Univision Communications Inc. "We live it, just as our fans do, and we couldn't be more excited to be bringing this world-class event to our viewers once again. By deploying all of our assets, soccer fans will be able to enjoy every moment of the tournament when and where they want."
The network also announced that for the first time ever it will give viewers the opportunity to re-live all the excitement of the entire World Cup through its distribution partners, on the Univision On Demand platform. All games will be available to subscribers On Demand the very next morning after it airs live. Some distributors will also be offering the games On Demand in high definition.
Univision.com is an Official Internet Broadcaster of the 2010 FIFA World Cup and is providing all-around coverage of the tournament at http://www.UnivisionFutbol.com. For the first time ever, fans located in the US and Puerto Rico will be able to watch all 64 matches live online for free. Additionally, all fans will have access to real time game stats and minute-by-minute commentary. Live coverage of the tournament will also include interviews with players and coaches, exclusive behind-the-scenes video of soccer stars, and Univision talent reporting directly from the streets of South Africa. World Cup coverage has already begun with the latest tournament news, an in-depth look into the history of the matches including profiles of over 70 of the best players in FIFA World Cup history, and a dedicated widget.
Univision Móvil is a Mobile Content Provider of the 2010 FIFA World Cup South Africa and is already providing the latest news, game calendars and more on the Univision.com mobile website. For Smartphone users, the Univision Fútbol App will provide fans with extensive coverage of the tournament, including news, videos, photos, team standings and play-by-play updates. Live mobile streaming of the matches will be accessible to Verizon Wireless V CAST subscribers where available. This year's online and mobile coverage is action-packed with extensive coverage before, during and after the tournament.
Univision's announcer team will provide viewers with play-by-play coverage, insightful commentary, and comprehensive analysis of every one of the 64 matches taking place in various cities throughout South Africa. Univision's lineup is a combination of the most noteworthy, seasoned sportscasters and former players from the Spanish-speaking world. The star-studded play-by-play and color analyst teams include:
Pablo Ramírez and Jesús Bracamontes:
Known as "La Torre de Jalisco," Pablo Ramírez is the pre-eminent voice of soccer in the U.S., having previously served as announcer for the 2002 and 2006 World Cup tournaments, three Copa Américas, four Gold Cups and hundreds of Fútbol Liga Mexicana matches for Univision, TeleFutura and Galavisión. Returning as color analyst for a third World Cup is "El Profe" himself, Jesús Bracamontes, a former Chivas coach and general manager of the Mexican National Team, who also serves as color analyst for Fútbol Liga Mexicana matches.
Jorge Pérez-Navarro and José Luis Chilavert:
Anchor of TeleFutura's "Contacto Deportivo," the only nightly, live sports magazine on Spanish-language television, Jorge Pérez-Navarro, who called the action for Univision at the 2002 and 2006 World Cups, returns to the microphone with José Luis Chilavert, the celebrated Paraguayan goalkeeper of the 1998 and 2002 World Cups, who once again brings his high energy and colorful personality to the booth.
Rounding out the panel is the Emmy-award winning presenter of "República Deportiva" Fernando Fiore, one of the foremost authorities on "fútbol," who will host all games directly from Univision's broadcast studio at the International Broadcasting Center in
Soccer City Stadium, Johannesburg, South Africa.
Univision first televised the FIFA World Cup in 1978, and the Network has televised every World Cup tournament since then. The 2006 FIFA World Cup™ tournament held in various cities across Germany and broadcast on Univision's three networks broke audience records reaching an estimated 50 million viewers across the U.S.
View the 2010 World Cup calendar now. Soon, the complete schedule of Univision's World Cup coverage will be available for download at http://www.UnivisionFutbol.com.
Univision Communications Inc. is the premier Spanish-language media company in the United States. Its operations include Univision Network, the most-watched Spanish-language broadcast television network in the U.S. reaching 95% of U.S. Hispanic Households; TeleFutura Network, a general-interest Spanish-language broadcast television network, which was launched in 2002 and now reaches 85% of U.S. Hispanic Households; Galavisión, the country's leading Spanish-language cable network; Univision Studios, which produces and co-produces telenovelas, reality shows, dramatic series and other programming formats for all of the Company's platforms; Univision Television Group, which owns and operates 64 television stations in major U.S. Hispanic markets and Puerto Rico; Univision Radio, the leading Spanish-language radio group which owns and/or operates 68 radio stations in 16 of the top 25 U.S. Hispanic markets and 5 stations in Puerto Rico; Univision On Demand, and Univision Interactive Media, which includes http://www.univision.com, the premier Spanish-language Internet destination in the U.S., and Univision Móvil, the industry's most comprehensive Spanish-language suite of mobile offerings. Univision Communications also has a 50% interest in TuTv, a joint venture formed to broadcast Televisa's pay television channels in the U.S. Univision Communications has television network operations in Miami and television and radio stations and sales offices in major cities throughout the United States.
For more information, please visit http://www.univision.net
###