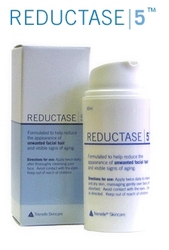 Women now have an inexpensive, safe, and painless way to significantly reduce the embarrassing appearance of facial hair that has frustrated so many
Coeur d'Alene, ID (PRWEB) July 19, 2008
For too long, treatments for facial hair weren't for the squeamish - certainly not a topic for cocktail conversation. But, as with other irritating beauty peeves, that's all changed. Today, the challenge of unwanted facial hair has been solved with the simple application of a daily lotion, Reductase-5™.
Dr. Randall Wilkinson, CEO of Trienelle Skincare explains, "Effective control of facial hair has always depended on procedures that are uncomfortable, embarrassing, time-consuming or costly. Now, simply applying a protective anti-aging lotion can do as much - or more - to benefit a woman's appearance."
Trienelle Skincare today announced the results of a 90-day study of its new Reductase-5, an innovative formula that helps reduce the appearance of unwanted facial hair. The study included 60 women who ranged in age from 31 to 71.
Users reported these key observations:

Reductase-5 has the same effectiveness as tweezing or waxing (without the pain, hassle or embarrassment)
It is more effective than shaving, bleaching or chemical depilatories
70% reduction in time spent tending facial hair problem
41% reduction in appearance of facial hair
26% reduction in appearance of lines and wrinkles
The unique effects of Reductase-5 depend on the TR5 Complex™ developed by Trienelle. The botanical and nutritive formulation is protected by pending patent.
"Women now have an inexpensive, safe, and painless way to significantly reduce the embarrassing appearance of facial hair that has frustrated so many," says Wilkinson. He refers to a startling note recently received from a user of Reductase-5.
"It can be embarrassing when your 4 year-old says in public, "Hey, Mom, let me see your moustache," and your husband gives you a Valentine's Day card that has a picture of a man and a woman with full facial hair…the only difference between them is that she has a gun on her head. Since I started taking care of my facial hair, I feel more feminine and sexy. Reductase-5 has lightened the hair color and coarseness of my facial hair and lessened the pain of tweezing.
Reductase-5 is available in an airless 30ml dispenser which lasts the typical user approximately 2 months. It can be purchased for $59 at select spas and directly online from Trienelle Skincare or 800-539-5195.
# # #