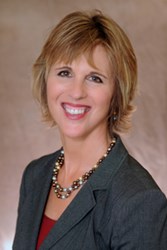 Anita brings a strong fit with the Redlands community, a proven track record, an inspiring vision and unusually rich leadership traits. - Ralph Kuncl, president, University of Redlands
Redlands, Calif. (PRWEB) August 23, 2013
Anita West has been appointed Vice President for Advancement at University of Redlands. West will assume responsibility for the University's Advancement organization and will be tasked with ensuring the continued growth and success of University Relations, Development, Advancement Services, and Alumni Relations in support of institutional priorities. West, who has been serving as the organization's interim administrator since December 2012, will report directly to President Ralph Kuncl.
Dr. Ralph Kuncl, who took office as the 11th president of the University of Redlands in August 2012, describes West as a fresh and energizing source of inspiration. "Anita brings a strong fit with the Redlands community, a proven track record, an inspiring vision and unusually rich leadership traits. These are essential considerations as we move into the planning and execution of our comprehensive development campaign," said Kuncl.
"I have a deep affinity and fondness for the University of Redlands, the people it attracts and the community it engenders. It is an extraordinary privilege to serve with this president at this time in the University's history to more broadly engage alumni, parents, faculty and friends in advancing our collective ideals. This is truly a dream job at a dream university," said West.
West holds a degree in communications from Washington State University. She has served as a fundraising consultant for the University of Redlands, YMCA of the East Valley, Woodbury University and the University of Southern California. She also served as a management consultant for the Redlands Symphony. Prior to that, she worked at the University of Southern California, where she started as an Assistant Director for the Alumni Campaign and worked her way up through the ranks — earning four promotions in just 10 years — to Associate Dean for External Relations in the USC Price School of Public Policy.
The University's search committee was led by the Associate Vice President of Marketing and Strategic Communications, Kimberli Munkres. The committee retained Lori Morris, a recruiter with the firm Witt/Kieffer, to conduct a comprehensive national search, which yielded scores of highly qualified applicants.
About University of Redlands
The University of Redlands is an independent, non-profit, liberal arts and sciences university consistently ranked among the best universities in the nation. Since the university's founding in 1907, Redlands has emphasized academic rigor, personal development and interdisciplinary studies. An Education + culture of elevated learning provides students with a holistic education that results in a unique life transformation. Redlands students learn equally about service, commitment, life and the world. Adults may continue their education with programs tailored for working professionals at the Schools of Business and Education.