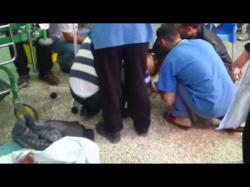 Washington, DC (PRWEB) May 01, 2013
UOSSM is outraged by the airstrikes that targeted Syrian civilians in Bab al-Hawa crossing between Syria and Turkey on April 30th -2013, which resulted in more than 54 wounded and 2 dead, according to a report by Turkish press, as the Governor of the southern province of Hatay, Celalettin Lekesiz said that, "2 killed Syrians and 54 wounded ones, 19 of them in serious condition, were brought to Hatay, Turkey after Assad forces conducted an air attack on the Bab al-Hawa Border Crossing between Turkey and Syria."
http://www.turkishpress.com/news.asp?id=384688
"On April 30th- 2013, we received 7 deaths and more than 54 wounded, caused by 3 airstrikes. Seven cases were in critical conditions and were instantly, transferred to hospitals inside Turkey for treatment, the other cases was ranging in severity and were managed locally." Dr Jomaa Abu Ras, the medical director of UOSSM Medical facility in the area, reporting on the incident, adding that, "Directly after the airstrikes, we took an extra precaution and evacuated the whole area, seeking the safety of our people. I would like to draw attention to the fact that all the causalities of the Bab al-Hawa crossing airstrikes were children and women, who fled their homes seeking safer places, not yet granted an access to refugee camps inside Turkey, and became as non-registered refugees in Bab al-Hawa crossing. It is worth mentioning that our medical facilities had treated more than 5500 wounded over the last 4 months, we need to continue supporting our people in these critical times."
UOSSM views the attack on Syrian civilians in Bab al-Hawa crossing as blatant violation of the Geneva convention, of which Syria is a signatory, stating the importance of the protection of civilians in the time of war. UOSSM stresses on the urgency to implement a "No Fly zone" that will ensure the safety of civilians in areas bordering the neighboring countries.
"The prohibition of attacks on civilian persons and civilian property includes all acts of violence, whether committed in offence or defence. Attacks or threats of violence intended to terrorize the civilian Population are also prohibited."