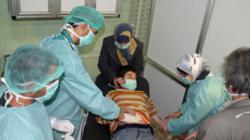 (PRWEB) April 10, 2013
The UOSSM is anxiously watching the new development in Syria, as report by BBC stated that, "Syria has rejected the UN inspection in the alleged use of chemical weapons in the country's conflict. UN inspection team is in Cyprus waiting for permission to enter Syria to investigate the claims. But state-run media said Syria had rejected moves by the UN to broaden the probe to cover the whole country." UOSSM views this rejection as a warning sign of a possible imminent attack using chemical weapons on the stronghold areas inside Syria and appeals to the public health authorities in the UN, WHO, and international aid organizations to immediately put an urgent preparedness plan in action to protect hundreds of thousands of innocent civilians under the threat of chemical weapons attacks. http://www.bbc.co.uk/news/world-middle-east-22071201
Dr Tawfik Chamaa, UOSSM Spokesperson, said; "We regret Syria's rejection of the UN request for inspection on chemical weapon. Given the past experience with the Syrian government handling the crisis that is over two years, and the frantic attempts to quell the revolutions using all kind of heavy weaponry, there is increasingly serious fears of imminent use of chemical weapons by Syrian government on areas controlled by rebels, especially Damascus suburbs, which is considered a crucial strategic area."
Describing the situation in Damascus suburbs as rapidly deteriorating, Dr Chamaa warns that Syrian government could conduct chemical attacks on these areas as a final attempt to regain control, "we are receiving some disturbing reports by local residents in Damascus suburb, denoting to deployment of heavy weaponry to the area, associated with increasingly tight siege on several towns and cities."
"While our major concern is the safety of civilians in those areas, we consider the use of chemical weapons as war crime that necessitates urgent intervention by international community to protect civilians. We urge the World Health Organization to immediately implement a preparedness plan to protect hundreds of thousands of civilians," Dr Chamaa said.