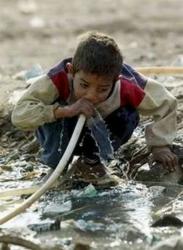 Washington DC (PRWEB) February 22, 2013
UOSSM urges the World Health Organization to extend its medical assistance to the besieged and heavily stricken areas inside Syria, and to urgently implement the necessary preventive measures to counter the mounting fears of infectious diseases spreading, after several reports denoting to increased incidence and outbreaks of infections caused by contamination of drinking water and poor sanitation services by local municipal authorities.
On Feb 13th -2013, Reuters reported that "Typhoid has broken out in an opposition-held region of Syria due to people drinking contaminated water from the Euphrates River, the World Health Organization (WHO) said on Tuesday." According to the same report, "An estimated 2,500 people in northeastern Deir al-Zor province are infected with the contagious disease, which causes diarrhea and can be fatal" This report was published just one week after another report by Aljazeera stating that, "Water-borne diseases are spreading in Syria, compounding the problems of hospitals that are perilously short of medicine and doctors after nearly two years of fighting, the World Health Organization says."
http://www.aljazeera.com/news/middleeast/2013/02/201325202924804306.html
http://www.reuters.com/article/2013/02/19/us-syria-crisis-aid-idUSBRE91I0ET20130219
UOSSM views the current situation of public health infrastructure and services in Syria as catastrophic, and necessitates an immediate international assistance.
"Since the Syrian upraising in March 2011, the public health system has been incapacitated all across the country. Regular vaccination programs for children were, reportedly, interrupted, risking the most vulnerable sector of our society to preventable communicable diseases. The extensive destruction in the infrastructure of public health is a real threat for millions of Syrians, and could result in massive Deaths." Dr Tawfik Chamaa, spokesperson of UOSSM, said, " The shortage of drinkable water, medicines and health care will put extra strain on already struggling Syrians, and will create all the circumstances to epidemics by infectious disease, specially in the upcoming high temperature season in the under-serviced areas."
UOSSM urges the World Health Organization to implement preventative measures to lower the possibilities of infection epidemics in devastated areas inside Syria. UOSSM stresses the importance of providing clean and drinkable water sources to areas that have been under heavy escalation by Assad forces, and where the infrastructure had been damage.
The UOSSM is a coalition of humanitarian, non-governmental, independent organizations, created following the deadly events in Syria, to provide medical and humanitarian aid to Syrian. UOSSM was established by 14 medical and relief organizations, and includes hundreds of physicians of mainly Syrian origins distributed in the United States, Canada, in Europe and in different Arab countries.