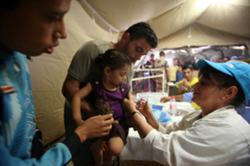 Washington, DC (PRWEB) April 22, 2013
UOSSM reports that more than 40 cases of measles have been detected in North Syria and the refugee camps, distributed as follow: 10 cases of measles in Aleppo, two of them had died, and 25 cases in Bab Alhawa refugee camp, and 5 cases in Bab- Alhawa hospital. A report by Jordantimes also pointed out to detection of measles among Syrian refugees in Jordan, "Thirteen cases of measles have so far been detected among Syrian refugees in Jordan, a Health Ministry official."
http://jordantimes.com/13-cases-of-measles-detected-among-syrian-refugees
Dr Tawfik Chamaa, UOSSM spokesperson, said; "Measles is one of the most contagious, and deadly of all childhood diseases. However, it is preventable by vaccination. It is very imperative to administer a wide campaign of vaccination to the displaced Syrian children, and those in the refugee camps. Those children have already missed their vaccination schedule due to displacement and the ceasation of vaccination programs in several areas across Syria, in addition to the high susceptibility among children to acquiring infectious disease, due to the harsh environmental conditions, the crowded area in the refugee camps, and the poor nutritional status many of them are suffering from." Dr Chamaa, added, " We call on WHO and UNICEF to conduct an urgent wide vaccination program on Syrian children, inside Syria and in the refugee camps."
UOSSM expresses its gratitude to the Jordanian Ministry of Health, Abdullat, for launching the initiative campaign to vaccinate the Syrian children in refugee camp, according to the Jordantimes," on Saturday to inoculate 90,000 Syrian refugees against measles and 24,000 against polio. In addition, 22,000 will receive vitamin A doses. Since the launch of the campaign, 3,528 Syrians have been vaccinated against polio and 23,000 against measles, while 6,985 were given vitamin A."
The UOSSM is a coalition of humanitarian and non-governmental organization, created following the deadly events in Syria, to provide medical and humanitarian aid to Syrians. UOSSM was established by 14 medical and relief organizations, and includes hundreds of physicians of mainly Syrian origins distributed in the United States, Canada, in Europe and in different Arab countries.