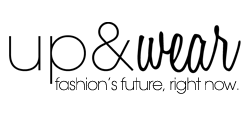 Up & Wear's e-commerce platform has made it more accessible for emerging designers to build a brand and get their name out there
New York, NY (PRWEB) March 26, 2012
Up & Wear announces the launch of its new online shopping destination featuring emerging New York designers breaking fashion boundaries to create fashion forward, inspirational looks for men and women. At the newly launched upandwear.com, a New York City based website, designers now have a platform to create and customize their own mini-boutique and sell their latest collections directly to consumers. This is the first e-commerce platform of its kind that helps emerging designers from New York gain exposure and build brand awareness.
Up & Wear's unique philosophy is emerging designers, especially New York designers, deserve to be in the spotlight and connect with consumers. This focus on New York designers inspired Up & Wear to create a mini-boutique platform that showcases each designer's vision and style and displays items from their latest collections alongside lookbooks, video, and designer stories. Shoppers can explore designer mini-boutiques on the website and learn about the designer's world and design point of view. This gives shoppers an opportunity to discover new designers that they otherwise would have never known.
Expanding on Up & Wear's philosophy is the catch phrase "Fashion's Future, Right Now". Up & Wear believes in creating a shopping destination that is curated, discovering up and coming designers that are on the verge of breaking through, and offering fashion forward items to its customers that want to be ahead of the fashion curve. The designers featured on upandwear.com produce in limited quantities and offer unique, often one of a kind pieces to its customers.
Through extensive industry research, Up & Wear discovered a void in online fashion for designers in this category who wish to sell their collections and build brand awareness. "Building a website, especially an e-commerce platform, can be costly to a designer", says co-founder Jennifer Aesque. "Up & Wear's e-commerce platform has made it more accessible for emerging designers to build a brand and get their name out there". Up & Wear differentiates itself from the competition by providing merchandising, social media, and marketing support to each designer. Further, Up & Wear handles everything from setting up the online boutiques to providing customer service, allowing designers to focus on what they do best.
Up & Wear's systematic approach starts with scouting New York designers, building and customizing the designer mini-boutiques to reflect their brands and display collections for sale, and promoting designers through social media and creating a social shopping experience directly on the Website. The curated fashion and accessory picks, mixed with interactive/social features through the mini-boutiques, creates a unique shopping experience that directly connects designers with consumers.
To learn more about Up & Wear and emerging NY designers please visit: http://www.upandwear.com.
Press Contact:
Jennifer Aesque
646-580-1377
http://www.upandwear.com