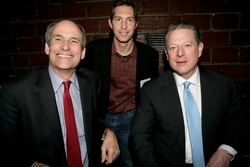 Looptworks was honored to share the stage with the most influential person on the planet in the environmental movement - Al Gore
Portland, OR (PRWEB) December 4, 2009
After being in business for only 9 weeks, the founder of upcycling apparel start-up Looptworks was invited to appear with Laureate, Nobel Peace Prize winner and former Vice President Al Gore and Oregon gubernatorial candidate Bill Bradbury. Scott Hamlin appeared with Gore and Bradbury at and event entitled "Ahead of the Curve: A Conversation with Sustainable Industry Pioneers" on November 19, 2009.
"Looptworks was honored to share the stage with the most influential person on the planet in the environmental movement - Al Gore," says Scott Hamlin, founding partner of Looptworks. "Mr. Gore and Mr. Bradbury encouraged people to embrace and nurture businesses like Looptworks to help us get ahead of the curve and fight climate change."
Already the solar manufacturing capital of America and the green building capital of the world, Oregon is poised to become the world leader in sustainable industries. Looptworks innovative approach to eco-friendly apparel is just another example of the http://www.youtube.com/watch?v=F9u0AyunUeQ leadership in Green Business from this region. Fellow panelists included:
Darcy Winslow - founder of Designs for a Sustainable World Collective
Bob Beisner - vice president of Solarworld Industries America
Jason F. McLennan - CEO of Cascadia Region Building Council
Jae Larsen - CEO of The Greenville Project
Louise Adamson - partner at K & L Gates
Jim Gilbert - Owner of One Green World Nursery
About Looptworks
Launched in August 2009, Looptworks is a ground-breaking business that upcycles industrial excess into meaningful, long-lasting and limited edition products. By re-using the world's pre-consumer excess, the U.S.-based company aims to rid the world of waste while inspiring a generation to reduce their impact on the planet. The inaugural line includes jackets hoodies, skirts, shirts and graphic t-shirts for both men and women The Portland, Oregon-based start-up is led by apparel industry veterans with extensive experience from Nike, adidas and Royal Robbins. For more information and to get looped in, visit http://www.looptworks.com , or subscribe to the company's Twitter feed at http://twitter.com/LooptWorks.
# # #