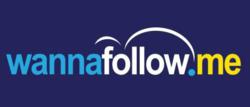 Just wanted to take a quick moment and thank all of our existing customers and introduce them to new what is in store for 2013. Happy New Year!!!! - Roger Safont / CEO
Tampa, Florida (PRWEB) December 31, 2012
Any New Years Resolutions?
Improved Marketing?
Better SEO?
Greater Visibility?
WannaFollow.Me is helping thousands of companies launch 2013 with those same initiatives.
In 2013, wannafollow.me is launching new and innovative Facebook and Twitter marketing tools, improved SEO strategies, email blast capabilities and a mobile platform.
WannaFollow.Me allows users to:
1. Create a personal profile page (think splash page) that points users to your content around the web
2. Post updates to social networking sites
3. Build a fan base of followers to increase social connectivity
4. Upload videos to truly showcase your personal profile
Here are just a few examples of WannaFollow.Me profiles:

Over the past year, virtually everyone has learned the importance of securing their online names as services like Twitter have come from nowhere to become significant drivers of top online brands. WannaFollow.Me makes this as simple as possible, establishing it as a great service and an even better opportunity for Internet users to control their identities online.