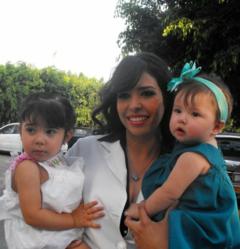 Upland, CA (PRWEB) October 25, 2011
Patients of any dental practice know that there is one key feature that will lead to dissatisfaction with service every time: a sense of distance or lack of communication between a dentist and their patients. With Dr. Arianna Martinez now joining Upland Dental Practice, residents of Upland could not be happier. This Upland dentist has a fresh perspective on the relationship between a dentist and their patients, and has put her expertise in full motion to provide exceptional services for the residents of Upland and surrounding cities. .
Dr. Martinez has a background that has dramatically affected her view on the world of dentistry. Even as a lead Upland children's dentist, there are gaps within professional dentistry that have not been filled. Growing up with a deaf sibling, Dr. Martinez saw early on just how traumatic even the most mundane of doctor visits could be when a medical professional and their patients were not communicating well. She saw the frustration and doubt that can lead to fear of any procedure.
Fluency in American Sign Language has set Dr. Martinez, Upland kids dentist, apart. Patients will find that the sense of empathy that comes from the firsthand experience of an ill-fated doctor/patient relationship has translated into her work at Upland Dental Practice. On top of American Sign Language, Dr. Martinez is also proud to serve the Spanish speaking community in a comfortable setting with their own language.
Many parents in Southern California have come to realize how tough it is to find a caring and patient pediatric dentist for their children, another key feature that sets Dr. Martinez and the other staff of Upland Dental practice apart. Dr. Martinez's experience as a pediatric dentist allows her practice to provide a warm and comforting environment for every patient that walks through the door. Children are given the time to understand each step of their visit, without any formidable equipment and resulting anxiety that is sure to happen.
The residents of Upland are now finding that it may be time to rethink just exactly what a patient/dentist relationship can be. Dr. Martinez, Upland pediatric dentist, and the staff are sending families home with a bright smile and new view of dental practices.
Visit http://www.uplanddentalpractice.com or call (909) 920-6000 for further information about Dr. Martinez and other dentists practicing at Upland Dental Practice. You can also visit their office at 300 East 7th St. Suite 1-F in Upland, CA 91786. Upland Dental Practice serves the residents of Upland, Ontario, Riverside, Rancho Cucamonga, Montclair, Pomonaand other surrounding cities.
PR by AvitalWeb, SEO Company in Los Angeles.
###