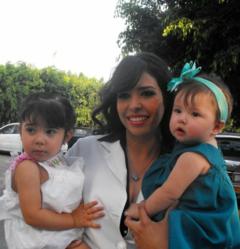 Upland, CA (PRWEB) November 29, 2011
Dental visits are stressful, especially for kids. For kids who are deaf or hard of hearing, and their parents, these visits can be even more stressful due to the lack of the ability to effectively communicate with the dentist. With her deaf and hard of hearing project, Upland pediatric dentist, Dr. Martinez, is now offering the empathy, patience, and the experience necessary to make dental visits less stressful for children and their parents.
It has become an unfortunate trend that many families are neglecting their oral health due to negative experiences in the past. That long process of finding a caring and helpful dentist has left countless people exasperated at the prospect. For Upland children's dentist, Dr. Martinez, this disassociation between patients and their dentists is unacceptable.
Dr. Martinez, Kid's Dentist Riverside
Dr. Martinez and the rest of the staff at Upland Dental Practice are out to change the perception of children's dentistry one happy family at a time. Maintaining healthy and teeth and gums throughout a child's life is of the utmost importance. Those formative years help to create habits that can lead to bright and healthy smiles throughout one's life. When parents and children find themselves anxious or unhappy before their dental visits, those healthy habits may be lost. As the leading upland kids dentist, Dr. Martinez understands these needs.
Dr. Martinez, Kid's Dentist Ontario
Dr. Martinezreceived her Doctor of Dental Surgery from the University of La Salle. Her fluency in Spanish and American Sign Language has removed the need for interpreters that can add unnecessary stress to children and their families during visits. This means keeping children informed of what is happening throughout each visit, making each trip enjoyable from start to finish.
Finding an experienced and compassionate dentist no longer needs to be a dreaded experience. Dr. Martinez, Upland dentist, and the rest of the staff at Upland Dental Practice are now providing a personal and caring touch to each and every patient that walks through their doors.
Visit http://www.uplanddentalpractice.com for more information about Dr. Martinez and how the staff at Upland Dental Practice can help kids with their dental health. You may also call (909) 920-6000 or visit their office at 300 East 7th St. Suite 1-F in Upland, CA 91786. Upland Dental Practice provides services for residents of Upland as well as Riverside, Ontario, Pomona and Rancho Cucamonga as well.
PR by AvitalWeb, SEO Company Los Angeles
###