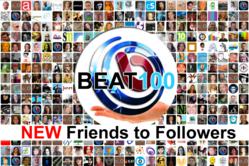 (PRWEB) June 26, 2013
BEAT100, a leading music video and social network for musicians, bands and music-lovers alike, provides talented artists from around the globe opportunities to be seen, heard, and rewarded for their musical abilities. As such, the BEAT100 team is constantly striving to provide members of the music social network's growing community with more ways to share their music with fellow BEAT100 musicians. As a result, BEAT100 recently launched the new 'Soundcloud Uploader', providing members with the ability to link already uploaded and high quality Soundcloud audio files with their BEAT100 profile in minutes.
With this new feature now live, BEAT100 members can upload audio by simply accessing the home page of their profile, selecting 'Audio Options' under their profile picture, and clicking 'Edit/Upload Tracks'. When prompted, 'What are you uploading?', users can simply select a genre for their music submission and either (a) paste a url from their Soundcloud audio file or (b) upload an mp3 of the desired audio track. Users can enter details for the track and select 'upload audio' to instantly provide a global audience access to their Soundcloud music or mp3 upload!
BEAT100 members can take advantage of the new Soundcloud Uploader today, as this convenient addition to the music video social network makes it easier for artists to be seen, heard, and rewarded by the BEAT100 community and beyond. Non-members of BEAT100 can join the site for free for a chance at global recognition for their musical talent and to take advantage of the many new features of a BEAT100 profile.