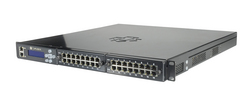 More and more enterprises are investing in our secure remote management platform to address their range of simple and extreme remote management circumstances
Austin, Texas (PRWEB) March 31, 2008
Uplogix®, the leading provider of next-generation secure remote management (SRM) solutions, today announced the general availability of Envoy™ and Envoy Management Station™ (EMS) v3.4, a fully-integrated remote management platform enterprise customers worldwide are adopting as a critical component to their network and server infrastructure. The enhancements in this new version helps large IT organizations further automate routine maintenance and recovery tasks to alleviate the risks, complexity and costs in managing dispersed networks.
Got Net Security, an IT Security Consulting firm specializing in corporate computer and network security services, offers Uplogix as part of their service offering thanks to a surge in customer interest.
"Remote management is an area we are seeing a lot of demand in by our customer base," said Chris Boykin, CEO, Got Net Security. "This new version has allowed us to expand our service offering to include an intelligent product that will more than meet customer expectations of what an integrated remote management appliance can do. As network architecture and IT infrastructures become more increasingly complex, new approaches and technologies like Uplogix are required. Both Got Net and Uplogix are well positioned to deliver not just today's infrastructure management needs but future needs as well, and we look forward to building our prosperous relationship together."
Version 3.4 of Uplogix' award-winning architecture integrates an always-available, secure and intelligent direct connection to the remote devices it manages-like putting your most trusted IT administrator everywhere, all the time. In comparison, traditional network management tools are not equipped to automate routine maintenance and recovery tasks because they depend on the network being available, and thus rely on people to do the work. The Uplogix solution is a new approach that significantly reduces labor costs and allows IT professionals to focus on more critical responsibilities. Enhanced features include:

Improved User Authentication Flexibility. By enhancing the security model to expand beyond global settings, IT administrators now have the ability to choose user authentication options on a more granular level, promising only the right users have the right access to the right devices. Envoy integrates with the leading third party authentication systems including TACACS, RSA SecureID, Secure Computing's Safeword and Radius.
Additional Fault Tolerance Options. Envoy now supports bonding between primary and secondary Ethernet ports. If a connection to the primary interface is lost, Envoy can failover the secondary interface, ensuring devices are always accessible and available.
Web-based Archiving. Formerly transferred through Secure Copy Protocol (SCP), data files capturing device changes such as configurations, alerts, and events, can now be archived more efficiently through a HTTPS session. Key and configuration management challenges are minimized, thus improving overall performance of large enterprise-wide implementations.
Extended Device Support. Continuing to meet network device and server requirements of the largest, most advanced distributed IT environments, Uplogix has added support for Alcatel 6600 and 6800 Omniswitch product lines.
Uplogix has pioneered the industry's first SRM appliance that integrates critical Access, Control and Enforcement (ACE) remote management functions to alleviate the risk, complexity and costs inherent in managing distributed IT infrastructures such as branch offices and remote datacenters:
Access. Secure always-available access to the distributed devices you need to manage.
Control. Local automation and control of routine maintenance, configuration and recovery tasks.
Enforcement. Consistent security and policy enforcement, even during network outages.
Uplogix appliances are available in 4-, 8-, 16-, and 32- port models.
"More and more enterprises are investing in our secure remote management platform to address their range of simple and extreme remote management circumstances," said Barry Cox, CTO, Uplogix. "This release incorporates feedback from the world's most demanding enterprises and extends our promise of trusted automation through an integrated, proactive and secure approach to fully managing their distributed infrastructures."
Pricing and Availability
Version 3.4 is generally available. Pricing depends on customer deployment. For more information, please visit http://www.uplogix.com/solutions/.
About Got Net Security
Got Net Security is a service led IT security company that provides high quality, professional, security and network services and solutions. Founded in 2002, Got Net Security was formed by experienced engineers with a long track record of professional and consulting services at major corporations. Our engineers are certified in Cisco, Checkpoint, IronPort, Websense, and Packeteer. Got Net Security engineers have over 30 years of combined network field experience ranging from simple router and switch installs, complex firewall, VPN, and disaster recovery solutions, to security vulnerability assessments and penetration testing.
Got Net Security is privately held and headquartered in Friendswood, Texas. For more information, please visit http://www.gotnetsecurity.com.
About Uplogix
Uplogix provides the first fully-integrated remote management solution. Our co-located management appliances automate routine administration, maintenance and recovery tasks -- securely and regardless of network availability. In comparison, traditional network and systems management depends on the network, uses multiple tools, and remains labor intensive. Uplogix puts the power of your best IT administrator everywhere, all the time.
Uplogix is privately held and headquartered in Austin, Texas with European offices in London. For more information, please visit http://www.uplogix.com.
Uplogix, Inc. All Rights Reserved. Uplogix, Envoy and their respective logos are trademarks of Uplogix, Inc. in the United States and other jurisdictions. All other company or product names mentioned are used only for identification purposes and may be trademarks or registered trademarks of their respective companies.
###