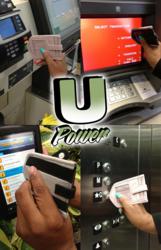 U Power is in-trend with today's minimalists style and touch technology.
Philadelphia, PA (PRWEB) June 15, 2013
The U Power wallet is for the in-trend minimalists. It features a slim design to fit in any pocket, RFID blocking fabric to secure bankcards and passports from skimming thieves, innovative stylus pen functionality to operate capacitive and resistive touch screens, but with a health conscious twist. No more using your knuckles, or pulling a sleeve over your finger. Stewart Clark created the U Power wallet for the need to make information entry on germ laden multi-user devices.
Media reports read recently by Stewart Clark indicated that both the ATM buttons, and the public toilet seats harbored the same pseudomonades, and bacillus, bacteria. Bio Cote a medical product company microbiologist Dr. Richard Hastings said about their ATM research, "We were surprised by our results because the ATM machines were shown to be heavily contaminated with bacteria; to the same level as nearby public toilets." as Dr. Richard Hastings was quoted in a Daily Mail January 2011 interview. http://www.dailymail.co.uk/health/article-1346026/Cash-machines-dirty-public-toilets.html
Notable professor Dr. Chuck Gerba, a University of Arizona professor of environmental microbiology, said these surfaces are contaminated because they are constantly being touched by lots of different people each day. "Nobody ever really cleans those objects," as he was quoted in a Daily Wildcat November 8, 2011 article. These germs will not kill people but will cause them serious stomach distress.
http://www.wildcat.arizona.edu/m/article/2011/11/gas_pump_handles_are_a_grip_of_germs
With this information, Stewart Clark began to develop a new method to make information entry on ATM's. Stewart began to think out the steps when using an ATM. He said, "I would take these steps when operating an ATM." "I would remove my wallet from pocket, remove my bankcard from the wallet, swipe my bankcard at ATM, and use my finger to enter the PIN," he said. Stewart can design a wallet with the newest textile nanotechnology that will make input on unsanitary ATM keypads without compromising the user.
Stewart chose to construct U Power from fabrics impregnated with nano-particles of silver because of its antimicrobial powers. "I worked in healthcare facilities that use bed mattresses impregnated with nanoparticles of silver to prohibit bacteria growth." "So it was a no-brainer to for me to use the silver impregnated textiles," Stewart said. Silver ions delivered by nanoparticles to bacteria promote lysis, the process by which cells break down and ultimately die, which makes silver nanoparticles a superior and widely used antibacterial agent. (Credit: Zongming Xiu/Rice University)
http://news.rice.edu/2012/07/11/ions-not-particles-make-silver-toxic-to-bacteria-3
On March 4, 2011 Stewart was laid off from his facilities management job at a local University in Philadelphia, Pennsylvania. With newfound spare time Stewart created the first U Power wallet prototype from gluing a piece of antimicrobial (acticoat for wound care) conductive fabric on a billfold wallet that was purchased from the Dollar General. Stewart constructed the second prototype from some cotton fabric and a strip of antimicrobial conductive fabric, and then the third prototype from all antimicrobial conductive fabric material. Stewart began to work with a New York based accessory manufacture to professionally construct the U Power wallet line. Stewart immediately began to receive wallet request from family and friends.
May 2011 Stewart decided to seek patent protection for U Power's innovative wallet design. Since money was tight due to unemployment, Stewart could not afford attorney fees, so he said, "I drafted the patent application myself, and also drew the artwork." Stewart's U Power wallet is currently patent pending.
Stewart wanted to move forward with bringing the innovative U Power wallet to the masses, but he did not have the capital to fund mass production. Stewart was introduced to the Kickstarter crowd funding platform by attending an American Society of Inventors meeting. Stewart and his team launched the U Power Kickstarter campaign on May 24, 2013 to fund the first U Power line. Stewart says, "The funds raised through a successful U Power wallet Kickstarter project will be used to professionally manufacture the U Power line." The U Power line includes two different wallet styles and colors. The funds will enable Stewart to procure (antimicrobial and radiofrequency blocking fabric etc.) raw materials; it will also help with the cost associated with a large-scale production run. U Power currently hasn't reached its funding goal of 20,000. It has about 27 days to go.
http://www.kickstarter.com/projects/1038039202/u-power-wallet-the-minimalist-all-in-one-slim-wall