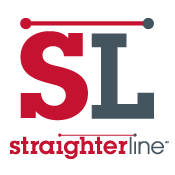 We are excited to be a low-cost, low-risk option for students desiring to attend Upper Iowa University.
Baltimore, MD (PRWEB) May 28, 2013
StraighterLine (straighterline.com) announced today that Upper Iowa University (uiu.edu) has joined their continually expanding network of partner colleges and universities. UIU is on the leading edge of flexible higher education, and their multiple delivery systems, including online and independent study, make them a perfect fit for StraighterLine's partner school network.
Upper Iowa University and StraighterLine make ideal partners because they are both committed to providing all types of students – working students, adult learners, active duty military – access to quality higher education wherever and however they need it. From online learning to independent study to dedicated on-base military education centers to study centers around the Midwest and even in the Pacific Rim, UIU prepares students to succeed while enabling them to continue living their lives and doing their jobs.
The new partnership between Upper Iowa University and StraighterLine offers even more students the opportunity to get a quality education online, at their convenience, at a substantially lower cost than most traditional degree programs. Students can take freshman and introductory-level classes through StraighterLine and save thousands of dollars on the cost of their college degree. With StraighterLine's affordable subscription pricing plan, students can save up to 90% on their first year of college and can move through the material as quickly or slowly as they like. StraighterLine offers entry-level college courses online in Business, English, Humanities, Math, Science and Foreign Languages, as well as College Prep. In addition, StraighterLine offers a wide variety of CBEs (credit-by-examination) that allow students to earn college credit based on test scores.
"We are excited to be a low-cost, low-risk option for students desiring to attend Upper Iowa University," says Burck Smith, CEO of StraighterLine.
"For more than 150 years, Upper Iowa University has had an outstanding history of meeting the educational needs of students through innovation, quality and service," said UIU President William R. Duffy II, Ed.S., Ed.D. "We are focused on creating flexible education that helps change students' lives forever, whether they are pursuing their degree on campus, through a distance education program, or in their community at one of our centers. As the largest, private, independent not-for-profit educational institution in Iowa, we have the expertise to provide the same high-quality excellent academic programs to all our students. We are pleased to partner with StraighterLine in developing another effective tool for students to increase access to affordable higher education."
About Upper Iowa University
Founded in 1857, Upper Iowa University is a private, not-for-profit university providing undergraduate and graduate degree programs and leadership development opportunities to some 6,200 students — nationally and internationally — at its Fayette campus and learning centers worldwide. Upper Iowa University is a recognized innovator in offering accredited, quality programs through flexible, multiple delivery systems, including online and independent study. UIU has been named to the top 15% of military-friendly schools by G.I. Jobs for four consecutive years and named as a top military-friendly university for five consecutive years by Military Advanced Education. In 2013, U.S. News & World Report ranked UIU among the best online education programs for bachelor's degrees and the MBA. In addition, the publication ranked those programs in its first-ever list of best online programs for veterans. For more information, visit uiu.edu.
About StraighterLine
StraighterLine has been recognized as a revolutionizing force in lowering the cost of college education by major news organizations and the U.S. Chamber of Commerce for offering students online courses that earn real college credit for just $99 a month. Inside Higher Ed recognized StraighterLine for offering the "...lowest-cost set of credit-bearing courses on the Internet." And Fast Company named StraighterLine one of the "10 Most Innovative Companies in Education."
In order to facilitate the award of credit, StraighterLine has forged partnerships with leading accredited online colleges and universities. A student ultimately earns a degree from those institutions but realizes tremendous savings and convenience by starting with StraighterLine.
StraighterLine's courses are evaluated and recommended by the American Council on Education's College Credit Recommendation Service (ACE CREDIT), which includes over 1,800 participating colleges and universities. In addition to the institutions with which StraighterLine has a direct relationship, more than 350 other schools are reported to have accepted StraighterLine coursework for transfer credit.
Currently, StraighterLine offers entry-level college courses online in the Sciences, Humanities, English, Math, Business and Language. Many StraighterLine courses are now offered in both self-paced and professor-led formats. 5 StraighterLine courses have been approved by The College Board to be listed as AP courses. As a pioneer in the movement to revolutionize college for America, StraighterLine also offers alternatives to college courses including Prior Learning Assessments and credit-by-examinations that let students earn college credit for knowledge and life experiences they already possess.
For information, visit straighterline.com or call 1-877-str8erline (1-877-787-8375).