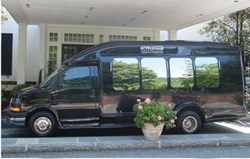 Upper Valley Shuttle offers you the same great airport shuttle service service you've come to expect from their parent company, Avante Limousine & Transportation.
(PRWEB) April 7, 2011
Responding to the most frequent request from their limousine clients, Avante Limousine and Transportation is proud to now offer client-focused, shared airport shuttle transportation service from New Hampshire's Upper Valley to the Manchester Airport (MHT) with the launch of Upper Valley Shuttle.
Sheri and Tom Barnes, Avante's owners, have been offering private professional chauffeured limousine transportation services to the residents, businesses and visitors of the Upper Valley since 2007. "We live and work in a beautiful environment. But let's face it, without careful planning, it's not that easy to get to or from here." Through months of research, applications to the State of NH, a hearing with the State of NH, and communications with Manchester Airport and the towns and businesses involved, Avante secured all the proper permits and authorities to move forward with their new Manchester, NH airport transportation shuttle service to MHT.
Upper Valley Shuttle] is an affordable and viable MHT airport transportation service option. Shared airport shuttle service helps reduce the traffic in Upper Valley towns and on the interstate reducing the overall carbon footprint.
The new MHT shuttle service eliminates the need to inconvenience family or friends for airport transportation. No need to rent a car. No more cost and inconvenience of parking in the offsite lot.
Stop Locations:
Six South Street Hotel, Hanover, NH
Hanover Inn Bus Stop, Hanover, NH
Residence Inn, Lebanon, NH
I-89 Exit 13 Park & Ride, Grantham, NH
See our schedule and make reservations online at http://www.uvshuttle.com!
Rates: $59 one-way or $99 roundtrip!
Upper Valley Shuttle will offer you the same great service you've come to expect from their parent company, Avante Limousine & Transportation. Of course, if you're on a tight schedule and need airport transportation directly from your home or office, please contact Avante for private chauffeured limousine transportation options. Also, if you will be traveling with a party of 3 or more contact Avante for pricing as it might make more sense, financially, to travel with the convenience of private transportation.
###