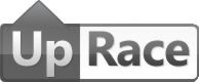 By leveraging existing social networks, the UpRace game platform is specifically designed to keep users motivated and on-target to reach their goals.
Boston, MA (PRWEB) September 27, 2010
A Boston-based social networking business announced today that they will be launching a new website in November, allowing users to earn points and financial incentives for setting and reaching personal and societal goals. With nearly two-thirds of all Americans maintaining a profile on at least one social network, UpRace will build on those connections to motivate users to accomplish more, receiving feedback from peers along the way.
The UpRace game platform is specifically designed to keep users motivated and on-target to reach their goals. "UpRace was designed to motivate individuals. People are already connected through their social networks, so we are building a game layer on those connections to get people to use them for something positive," says UpRace founder and CEO Greg Santos.
Users, who access the site for free, input personal goals and can choose to share them with their friends on UpRace and on other social networks like Facebook, or to keep them private. When a goal is made public, friends see the goal and the steps the user takes to reach it, and can offer motivation in the form of advice or "UpVotes," which give users points in one of three categories: work and education, health and fitness, and lifestyle.
Explaining the mechanics behind the game, VP of Game Design Robert Cherry said, "the more positive reinforcement you earn from your friends, the higher your level, and the higher your level, the more UpVotes you can give out. It's the perfect way to motivate people to accomplish everything from cleaning out the garage to conquering an Ironman." Users can spend the points they earn to challenge their friends to achieve more goals than they already have.
Points are not the only way users are rewarded on UpRace; the company monetizes the site by partnering with commercial brands and non-profits to design "Site Challenges." These allow companies to engage users by creating a challenge that is beneficial to society, and reward users with incentives - coupons or discounts - after they verify that they have completed the challenge. Verification of completion occurs through multimedia posted to the site, and UpRace hopes to add a location-based system in the near future. Forthcoming features include applications for mobile devices, like iPhone and Andriod, a robust health and wellness feature, and a private page system for companies to provide incentives to motivate employees.
UpRace, which is backed by Silicon Valley-based Wasabi Ventures, currently maintains a blog, and will be launching on November 9th, 2010. Questions or comments can be directed to gregory (at) uprace (dot) com.