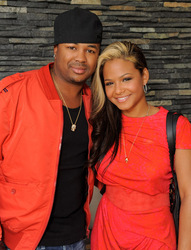 I think that's some of the reasons why I do movies like this. And Terius
Irvine, CA (PRWEB) October 2, 2009
Upscale Recording out of Costa Mesa, California, is stepping into the limelight with the likes of IGA Records and AEG to bring one of the most sought after events in the Los Angeles and Orange County area. The Bren Events Center in Irvine, CA is the place to be on the night of November 6th! Executive Producer and President of Upscale Recording, Manny Mijares, has joined forces with Super Producer Big Billy Clark and Radiokilla to bring The Dream and Christina Milian together for the first time as a married couple under the same roof to do what they do best!
The-Dream and Christina Milian first turned heads earlier this year in January when Christina appeared alongside The Dream at a listening session for his sophomore album. Later that same night they appeared very comfortable with each other at a birthday celebration for a Def Jam Records executive in Manhattan. When pressed about the relationship the next day, The Dream denied the romance to MTV News, saying it was strictly business; he signed her to his label imprint in a partnership with Interscope Records.
In July, The Dream and Christina Milian decided to make it official. The Dream allegedly took Christina to the rooftop of his condo in LA where he popped the question with a diamond ring that's estimated at nearly $200,000. Also, we have been told they had an intimate dinner celebration later that evening with with close friends and family and Christina was glowing like a schoolgirl. I hear Dream said it was love at first sight and insiders say 'he is sooo open on Christina'.
As of September 4th, The-Dream and Christina Milian were officially making sweet music together. The pair were married in Las Vegas over the Labor Day weekend. "It was the first of three ceremonies," a source close to The-Dream revealed exclusively to MTV News on September 8th.
So the story goes... first comes love, then comes marriage, then comes a baby in a baby carraige. Yes, you guessed it... Christina Milian is pregnant! "Of course, I would love to have kids," she told Us Weekly earlier this summer while promoting "Bring It On: Fight to the Finish." "I think that's some of the reasons why I do movies like this. And Terius "The-Dream" Nash has also been talking babies. "I love kids, and [Christina] loves kids probably more than I do," he told Us in July.
Everything has happened so fast, but here we are, about a month away from their first venue together as a married couple at The Bren Events Center in Irvine. With all of this buzz around the hottest couple in the music business right now, this event is sure to one of the hottest concerts this year. Upscale Recording has also brought in some very special guests to rip the roof off the building.
Kaya Jones from the World Famous Pussycat Dolls will be there to perform some of her new hits as a solo artist such as "Hollywood Dolls". Kaya has been working on her solo album which is slated to release soon. The former Pussycat Doll is excited to put on a a good show. Kaya Jones new single is available on itunes now.
Also, set to perform is Zshatwa. Zshatwa is a young, beautiful & talented singer hailing from Los Angeles, Ca. Her passion for music began at a very early age. She is working with a number of amazing producers, and just released her first single, entitled, "FRESH" written by Andre Merrit (Rihanna, Chris Brown, Omarion) and produced by Co-P (Bow Wow, Young Joc, Omarion).
Getting ready to "swing from the rafters" as he put it, is local Persian Hip-Hop artist, Apoetnomadali (Poet). Poet will bring versatility and style to the stage with insightful lyrics and a action packed performance. As an OC native, Poet recently releases his album entitled OCD (Orange County Disorder). OCD (the album) is in essence an audio documentary of what it has been growing up in the "OC" and even more importantly on a demographic and social level. It offers a stark and satirical glance of the underbelly of any affluent suburban community in America. Poet is ready to rip the stage and show you what the OC has to offer the rest of the world.
Believe it or not, the list of performers continue. Coming to the OC fron Arizona is Bobby Anthony. Bobby put an enormous amount of effort into his highly anticipated debut album. He produced 80% of this album himself. He also made his presence known by performing with the likes of; Baby Bash, Paul Wall, Frankie J, Too Short and others. Bobby is excited to bring his fire to the Bren Center and show So Cal what he's got!
Lastly, coming to the big stage for the first time, Upscale Recording artist Gahlya. Gahlya is from the Phillipines and has been working on her first album with Upscale. Gahlya brings a fresh new sound to the R&B genre.
Tickets for this event are available through Ticketmaster at http://www.Ticketmaster.com. The event will be held at The Bren Events Center on the UC Irvine campus at 100 Bren Events Center, Irvine, CA 92697. You may also get your tickets through the Bren Box Office by contacting them directly at 949-824-5000. Ticket prices range from $40.50 to $58.50 and there is no bad seat in the house.
The Official After Party where The Dream and Christina Milian will be hanging out, along with all of the other talent from the concert with held at Club Red formerly known as Tentation. There will performances at Club Red by The Dream and some of the other artists throughout the night. The Official After Party will be hosted by Christina Milian!!! Be at this party and bring your cameras to get your pictures of the hottest couple in the music business. Club Red is located at 4647 Macarthur Blvd in Newport Beach and will the place to be on Friday, November 6th.
Don't miss this event!
# # #