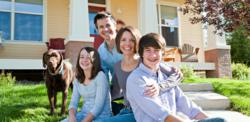 Los Angeles, Ca (PRWEB) February 12, 2013
An upside down mortgage occurs when rising housing prices can no longer be sustained, and the values of properties decrease or decline. When this happens, home owners may find they have a mortgage that exceeds the value of their property.
Red Blue Realty's professionals know that handling an upside down mortgage may necessitate refinancing by a homeowner, or initiating the process of a short sale. Refinancing the property is possible in today's real estate market, assuming that the property owner has a reasonable credit record, and wants to remain in the property.
The short sale option offers a rapid sale, debt relief, and the ability to avoid substantial negative credit marks and the possibility of foreclosure. With a short sale, a property owner with an upside down mortgage can sell his or her property for an amount less than the amount owed on it. The mortgage lender must agree to such a sale, but it is a decent proposition to avoid the expense and difficulties of foreclosure for both the lender and the property owner.
The ability for a seller to walk away from a mortgage that is underwater offers a strong opportunity for a fresh start. Buyers are attracted to short sale options, which offer a bargain and the chance of a quick closing. Of course, the seller, lender, and buyer must all be in full agreement for this type of sale to occur. If more than one lender is involved, the process can take longer, but ultimately handling a short sale in a timely fashion is key for all parties.
Of course, Red Blue Realty knows that to proceed with a short sale for an upside down mortgage, the first step is getting the home lender to agree to one. For a lender to consider a short sale, the owner must be behind in payments or have been issued a notice of default by the lender.
If a homeowner prefers to refinance an upside down mortgage, the place to start is by contacting the loan servicer handling the existing loan. The largest investors are Fannie Mae and Freddie Mac. These investors provide refinancing plans for homeowners with upside down mortgages.
After making an initial contact with their loan provider, a homeowner with an underwater mortgage will need to get a quote for whichever refinance program their loan is eligible to receive. The program will be different, depending on whether they are in Fannie Mae's program, the Refi Plus, or Freddie Mac's, the Relief Mortgage Program. Both were begun through the government's Making Home Affordable program, and to be eligible for this relief, a mortgage must be owned or guaranteed by either Fannie or Freddie, and it must have closed before May 21, 2009. Payments should be current, with no late pays in the preceding six months, and no more than one in the past twelve months. The other criteria is that the loan to home value ratio has to be more than eighty percent. And, it must also fall under conforming limits, which means that it must be at or below the Federal Housing Authority's maximum financing amount. This varies by the area a homeowner lives.
Red Blue Realty's experts can assist homeowners with an upside down mortgage to choose the best option for them, whether it's a short sale or a refinance.
Website: http://www.redbluerealty.com
Email: Contact(at)redbluerealty(dot)com
Phone Number: 1-(855) 66-RBREALTY or 1-(855) 667-2732