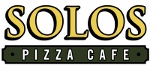 "We interviewed two other franchise consultants and determined that USG had the most thorough approach to guide us through the franchise process."
-- Bruce Thomson, CEO
Bloomington, MN (PRWEB) July 11, 2012
In order to launch their franchise business operations, create franchise development deliverables and expand their franchise base across United States, Solos Pizza Cafe has announced the partnership with Upside Group Franchise Consulting.
According to Solos Pizza Café CEO, Bruce Thomson:
"We interviewed two other franchise consultants and determined that USG had the most thorough approach to guide us through the franchise process. USG President, Mario Altiery, proved to be the most responsive to our questions and did the best job making sure we understood the process before signing. In addition, USG came highly recommended by prominent franchise attorneys."
Bruce Thomson was inspired to create Solos Pizza Café in early 2006 by the success of the fast-casual, high-quality restaurant trend. At Solos, customization is key. 60% of orders come directly from the menu while 40% are custom pies. The success at Solos has occurred by creating a system that assures consistency. Bruce has been successful by sourcing the right products, formulating the best dough, finding the oven that makes it all possible, and attracting the perfect staff. Solos has been successful enough to open a second location in 2008 and a third more recently.
The goal at Solos Pizza Café is to expand the business through franchising while still maintaining the high quality, serve and systems which has led to their current success. Fast Casual dining is one of the fastest growing segments in the restaurant industry. Combining this trend with the second most popular food in America, pizza, will create an exciting new investment opportunity for perspective franchisees who want to partner with a franchisor focused on growth and profitability with integrity.
Upside Group Franchise Consulting is a full service, boutique franchise consulting firm with offices across the country. They have a handpicked, professional staff with decades of franchise experience from all disciplines of the franchise industry. Upside Group Franchise Consulting offers their clients a full suite of franchise services including innovative franchise marketing programs, outsourced franchise sales, franchise sales training, franchise lead screening, franchise manuals, franchise marketing collateral, and award winning web design. Headquartered in Scottsdale, Arizona, Upside Group Franchise Consulting regularly speaks at International Franchise Association events and the American Bar Association, serve as contributing writers for several franchise industry publications and have instructed at Nova University, the nation's leading institution for higher education in the franchise industry.
To learn more, please visit: http://www.upsidefranchiseconsulting.com