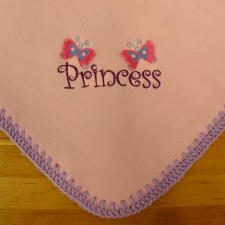 "with a nor'easter due to arrive tomorrow, Wednesday, I am sure these blankets will be appreciated." - Chris Smolen, President of Upstate Networks
Utica, NY (PRWEB) November 06, 2012
Chris Smolen, President of Upstate Networks said that "ever since we donated fleece blankets to the Albany/Rensselaer NY Chapter of Project Linus we have been contacted by numerous charities and causes asking for help in any way."
So when the Times Square Church in New York City sent out an urgent request for blankets to help the victims and volunteers of Hurricane Sandy, Upstate Networks a Utica, NY computer engineering, design and manufacturing firm "stepped up to the plate" with a donation of children's fleece blankets and sweatshirt blankets.
"Hurricane Sandy was the largest Atlantic hurricane on record and there are many communities that are in dire need of blankets, especially the Far Rockaways, Staten Island and Breezy Point" Mr. Smolen continued "with a nor'easter due to arrive tomorrow, Wednesday, I am sure these blankets will be appreciated."
About the Times Square Church
A major emphasis at Times Square Church is giving aid to the poor, the hungry, the destitute and the addicted. This vision has grown beyond their borders. As Pastor David Wilkerson has written, "It is the Holy Ghost who has transformed Times Square Church into a missions-focused church, now taking the gospel to nations worldwide."
About Upstate Networks
Located in Utica, NY, Upstate Networks, Inc. (UNI) is a computer engineering, design and manufacturing concern and is the world leader in PC-controlled vending.
Founded by President Chris Smolen in 1994, UNI manufactures hardware and software designed to interface vending products to PCs and other general-purpose computers, and has worked with manufacturers to develop novel vending and other self-service pay-per-use equipment.
About Fleece Blankets
Fleece blankets are made from Polyethylene terephthalate (PET) or other synthetic fibers and can be made out of recycled PET bottles, or even recycled fleece. They are lightweight, warm, soft, and hydrophobic, holding less than 1% of their weight in water which allows them to retain much of their insulating powers even when wet. They are machine washable, dry quickly and are very breathable.
Although fleece blankets are also called "fleece throws" or "fleece throw blankets" there is a difference, and that is the size. Fleece blankets run in sizes that correspond with bedding dimensions; king, queen, full, twin and baby.
Fleece throws or fleece throw blankets are smaller than a twin blanket (but bigger than a baby blanket) which is the perfect size to "throw" over your lap or shoulders. Fleece throws are popular at outdoor sporting events (especially when personalized with a team logo or mascot) which is why fleece throws are sometimes called stadium blankets.
Regardless of the size, the words "fleece blankets", "fleece throw blankets", "fleece throws" or "stadium blankets" are used interchangeably.
Fleece blankets come in different weights that are labeled in ounces or grams per linear yard. A heavier fleece weight will mean a thicker blanket.
Not all fleece blankets are created equal; before you buy one, find out what the weight, dimensions and what the fabric content is.
Fleece blankets can usually be shaken out or spot cleaned but occasionally the need arises for a full cleaning. When necessary, they should be machine washed in cold or warm-cold water on the gentle cycle. Vigorous agitation can cause pilling and shorten the life of your blanket; for best results only wash with other fleece items. Regular detergent can be used however bleach and fabric softer should be avoided as they can damage the fabric.
Air drying is preferable to machine drying. Line drying will not scorch the fleece and will result in less static than a dryer. If air drying is not possible tumble dry on the lowest heat setting, being careful not to over-dry the fleece. Never iron fleece blankets. It is possible to melt the material and leave permanent marks.