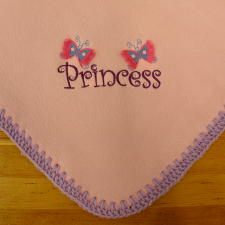 Project Linus does great work for children across the country.
- Chris Smolen, President of Upstate Networks
Albany, NY (PRWEB) October 26, 2012
The Albany/Rensselaer NY Chapter of Project Linus received a donation of fleece blankets from Upstate Networks Inc.
"I heard that the Parson's Child and Family Services had put in a request to the Albany/Rensselaer NY Chapter of Project Linus for small blankets for children between newborn to 5 years old," said Chris Smolen, President of Upstate Networks. "However, they needed a little help to reach their goal of 210 blankets by Christmas time. Project Linus does great work for children across the country," Smolen continued "and supporting this local chapter is a way for me to give back in a small way while continuing to support my hometown community." Mr. Smolen is a graduate of Voorheesville Central School District.
About Project Linus
As Charles Schulz's Linus character from the PEANUTS® comic strip was comforted by his blanket, Project Linus strives to do the same and more for children who are seriously ill, traumatized, or otherwise in need. The blankets the nearly 400 chapter coordinators collect from thousands of "blanketeers" (volunteers) across the United States and then distributed to these children provide love, a sense of security, warmth, and comfort.
About Parson's Child and Family Services
Parsons is the largest multi-services agency in New York's Capital Region dedicated to helping families and their children. The agency provides counseling services, parenting education, child abuse/neglect prevention and treatment, family strengthening programs, early childhood family support, special education, youth development programs, and mental health services.
About Upstate Networks
Located in Utica, NY, Upstate Networks, Inc. (UNI) is a computer engineering, design and manufacturing concern and is the world leader in PC-controlled vending.
Founded by President Chris Smolen in 1994, UNI manufactures hardware and software designed to interface vending products to PCs and other general-purpose computers, and has worked with manufacturers to develop novel vending and other self-service pay-per-use equipment.
About Fleece Blankets
Fleece blankets are made from Polyethylene terephthalate (PET) or other synthetic fibers and can be made out of recycled PET bottles, or even recycled fleece. They are lightweight, warm, soft, and hydrophobic, holding less than 1% of their weight in water which allows them to retain much of their insulating powers even when wet. They are machine washable, dry quickly and are very breathable.
Although fleece blankets are also called "fleece throws" or "fleece throw blankets" there is a difference, and that is the size. Fleece blankets run in sizes that correspond with bedding dimensions; king, queen, full, twin and baby.
Fleece throws or fleece throw blankets are smaller than a twin blanket (but bigger than a baby blanket) which is the perfect size to "throw" over your lap or shoulders. Fleece throws are popular at outdoor sporting events (especially when personalized with a team logo or mascot) which is why fleece throws are sometimes called stadium blankets.
Regardless of the size, the words "fleece blankets", "fleece throw blankets", "fleece throws" or "stadium blankets" are used interchangeably.
Fleece blankets come in different weights that are labeled in ounces or grams per linear yard. A heavier fleece weight will mean a thicker blanket.
Not all fleece blankets are created equal; before you buy one, find out what the weight, dimensions and what the fabric content is.
Fleece blankets can usually be shaken out or spot cleaned but occasionally the need arises for a full cleaning. When necessary, they should be machine washed in cold or warm-cold water on the gentle cycle. Vigorous agitation can cause pilling and shorten the life of your blanket; for best results only wash with other fleece items. Regular detergent can be used however bleach and fabric softer should be avoided as they can damage the fabric.
Air drying is preferable to machine drying. Line drying will not scorch the fleece and will result in less static than a dryer. If air drying is not possible tumble dry on the lowest heat setting, being careful not to over-dry the fleece. Never iron fleece blankets. It is possible to melt the material and leave permanent marks.