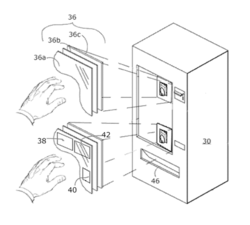 Utica, NY (PRWEB) May 09, 2013
Upstate Networks, Inc. (UNI) developer of BTCVend and DroidVend, released a proof of concept demonstration of patent-pending vending technology featuring the first-ever vending machine purchase using Bitcoins with change returned in USD.
Filmed in the Upstate Networks Utica, New York laboratory, the video features Stuart W. Card, PhD, of Critical Technologies Inc., making the Bitcoin purchase and receiving change in U.S. dollars.
"Vending machines could provide affordable access to folding money as well as convenience products," Dr. Card said. "You are more likely to be carrying your phone than your ATM card. Plus this will be great for those who don't have checking accounts, or simply prefer cash."
On April 9, 2013 Upstate Networks, Inc. was issued U.S. Patent 8,417,376, which provides a method and means for utilizing transparent LED touch screens for selecting products and services in retail environments.
This technology allows the user to view a number of products at the same time through the glass display, select one or more for investigation, choose one for removal from the display, and deliver the chosen item to a user.
This is the third US Patent issued to Chris Smolen Upstate Networks President. UNI has been successful in defending and licensing their flagship patent 5,822,215, Public Access internet Terminal with Pliant Currency Acceptors.
On January 26, 2013 Upstate Networks Inc. announced the option of conformal coating for all its PCB products.
Conformal coating material is applied to electronic circuitry to act as protection against moisture, dust, chemicals, and temperature extremes that, if uncoated (non-protected), could result in damage or failure of the electronics to function. When electronics must withstand harsh environments and added protection is necessary, Upstate Networks Inc. coats assemblies with a layer of transparent conformal coating rather than potting.
For more information about this or any of UNI's products, call 1-800-369-5797 or e-mail PR(at)upstatenetworks(dot)com.
About Upstate Networks
Located in Utica, NY, Upstate Networks, Inc. (UNI) is a computer engineering, design and manufacturing concern and is the world leader in PC-controlled vending.
Founded by President Chris Smolen in 1994, UNI manufactures hardware and software designed to interface vending products to PCs and other general-purpose computers, and has worked with manufacturers to develop novel vending and other self-service pay-per-use equipment.