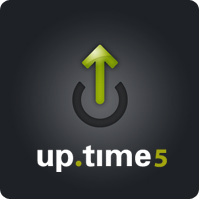 Toronto-based uptime software has quietly built up a customer base of more than 500 across verticals, geographies and market segments.
Toronto, Canada (PRWEB) February 20, 2009
The 451 Group, a technology industry analyst company focused on the business of enterprise IT innovation, recently released their impact report on uptime software . As part of the report, The 451 Group noted that uptime's comprehensive and cost-effective IT systems management solution put it in a good position during the global economic downturn.
"In today's challenging economy and with IT budgets constrained, lower-cost but full-featured offerings like uptime's will have a chance to shine," according to Dennis Callaghan, Analyst for The 451 Group. "The market for monitoring and managing virtualized infrastructure should only expand, and uptime is well positioned for this with established technology."
The Impact Report analyzes uptime's position in the market through five primary categories: Context, Products, Customers, Partners, Competition
Dennis Callaghan summarizes uptime's offerings:
"uptime develops a systems management suite known as up.time, a monitoring and management software framework designed to provide a 'single pane of glass' view of cross-platform IT infrastructure, including application and Web servers, virtual servers, network infrastructure, databases, e-mail and business applications, and network storage devices.
up.time also includes tooling that supports capacity planning and reporting, service-level agreement management, alerting and thresholding, plus extensive role-based dashboards - for IT users, IT managers and system administrators - with drill-down capabilities for problem analysis."
Overall, the report found that uptime provides IT managers and system administrators with a comprehensive solution that can manage both virtual and physical infrastructure including applications, application and web servers, and databases all through a unified browser-based interface.
This full-featured solution fits well in today's IT business environment, offering performance, ease-of-use, and cost-effectiveness during a time of budget cuts and uncertainty.
The report states: "Toronto-based uptime software has quietly built up a customer base of more than 500 across verticals, geographies and market segments."
"We see this report from The 451 Group as a further validation of our strategy," said uptime software CEO, Sean O'Neil. "Our customers are choosing us with good reason and as IT managers re-examine their monitoring and management solutions, we want them to take a good look at up.time. up.time provides both functional breadth and financial value by helping IT professionals dramatically reduce downtime, maximize capital investment and operational efficiency, all with minimal requirements for 3rd party deployment services or additional headcount to manage the system. This significantly helps prove IT's value to its customers."
About up.time 5
up.time provides IT managers with the insight to more effectively manage their distributed applications, services and infrastructure. up.time's cross location, cross domain, cross datacenter, and real-time role based dashboards provide system administrators with the necessary tools to better monitor the performance and availability of both their physical and virtual environments from a single centralized console.
An evaluation version of up.time is available as a Downloadable Trial . uptime software's support services are complimentary during this evaluation period to help customers quickly see the breadth, depth and value of the product in their environments.
About uptime software
uptime software inc. is a privately held corporation founded in 2000 and headquartered in Toronto, Canada. uptime is a provider of systems management, server monitoring, and capacity planning technology to the SMB and Enterprise marketplaces. up.time has received various awards for enterprise monitoring tools.
Press Contact:
Nick Johnson
uptime software inc.
Telephone: 416.594.4605
555 Richmond Street West
PO Box 110, Toronto,
Ontario, Canada,
M5V 3B1
###