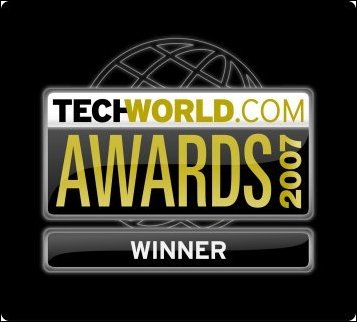 IT Product of the Year Award
Toronto, Canada (PRWEB) July 23, 2007
Earlier this month, TechWorld awarded up.time® 4 its heralded "IT Product of the Year Award" for Network and Systems Management. The TechWorld judging panel considered many factors, including innovation, ingenuity, reliability, and value. up.time has been getting praise in the industry for its IT Systems Management, Server Monitoring, Capacity Planning, SLA reporting, application monitoring, IT services monitoring, and virtualization monitoring and reporting.
David Cartwright of TechWorld writes, "The vendor, uptime software, labels its solution as: 'Enterprise monitoring and planning software that just works', so we decided to see if its claim was true."
The answer maybe nothing short of surprising, given the empty promises of many systems management vendors out there.
Cartwright explains his findings, "up.time is, frankly, superb. It's exactly what a network manager wants, it has a vast set of capabilities, and yet even a relative beginner could use it. If you want a piece of software to monitor your servers and the services they run, don't bother looking at any alternatives: buy this one."
Nick Johnson, Director of Marketing at uptime software, explained "we have been getting some fantastic reviews of up.time from the big players out there, including both TechWorld and The Unix Review. While it's nice to receive awards, we are more focused on making up.time the best server monitoring and IT systems management solution on the market. The biggest reward comes from our industry leading client satisfaction scores and retention rates."
up.time is an enterprise-class server performance, availability monitoring, and capacity reporting solution for virtualized and physical servers that seamlessly works across platforms (Windows, Linux, Solaris, AIX, HP/UX, VMware, Novell), across applications (WebSphere, WebLogic, Exchange, SAP, etc), and across databases (SQL Server, Sybase, Oracle, etc). It's more affordable than most software maker's heavy, multi-component packages and is enabled through a friendly web browser interface, providing secure access at anytime and from anywhere. For an IT Systems Management ROI calculator, white papers, or case studies please visit uptimesoftware.com.
An enterprise ready version of up.time is available for a free 14-day evaluation download at: Free Trial of up.time. uptime software's world class support services are free during this 14-day evaluation.
For further information please contact:
uptime software, 555 Richmond Street West, PO Box 110, Toronto, Ontario, Canada, M5V 3B1
Telephone: 416.868.0152
About uptime software
uptime software inc. is a privately held corporation founded in 2000 and headquartered in Toronto, Canada. uptime is a premier provider of IT Systems Management, including server monitoring, capacity planning, SLA reporting, and IT service and application monitoring as part of overall IT performance, availability, and capacity management. uptime software's solutions are used by the Fortune 1000 marketplace, with clients in more than 30 countries around the world. It has made numerous innovations in business software. For more, visit http://www.uptimesoftware.com.
up.time is a registered trademark of uptime software in Canada, the United States and in other countries. All other trademarks mentioned herein are the property of their respective owners.
###