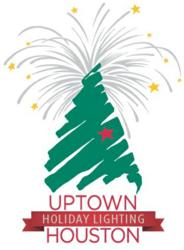 Houston, TX (PRWEB) November 21, 2012
On Thanksgiving night, Houstonians and visitors will come together to kick-off the holiday season at the 27th Annual Uptown Houston Holiday Lighting celebration. Festivities will begin at 4:00 p.m. with holiday music and concessions followed by Santa lighting up a half-million lights on 80 trees and an incredible fireworks extravaganza. The free event attracts an audience approaching 250,000 people on Post Oak Boulevard between Westheimer and San Felipe Roads.
ROAD CLOSURES & PARKING INFORMATION
Road Closure Information:

Beginning at 7 a.m. Thursday, November 22, Post Oak Boulevard will be closed from Ambassador Way to Guilford.
Beginning at 3 p.m. Thursday, November 22, Post Oak Boulevard will be closed from Westheimer to San Felipe.
Post Oak Boulevard will reopen at 10 p.m. Thursday, November 22, except the block between Ambassador Way and Guilford.
Post Oak Boulevard will completely reopen by 7 a.m. Friday, November 23.
Parking Information:
Public Parking – Free public parking is available at the following locations: Centre @ Post Oak • Dillard's Garage • Four Oaks Place • The Galleria • Post Oak Central • Post Oak Plaza • Williams Tower
Media Parking
Live Trucks should arrive early - before the crowd - and park at the Hilton Houston Post Oak, 2001 Post Oak Boulevard. Media credentials are required. Uniformed officers and/or event representatives will direct you where to park.
Other working media should park in the Sports Authority parking lot at 2131 Post Oak Boulevard. Enter the parking lot at the entrance off Westheimer near Starbucks. Media credentials are required for entrance. Please contact Lauren Anderson at (281) 785-5072 or email landerson(at)uptown-houston(dot)com to receive credentials before the event.
For Media Information call Judy Nichols (713) 306-7222. For event information visit http://www.uptown-houston.com or call (713) 621-2504.