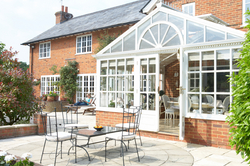 Clarity Conservatories is a brand new conservatory design and installation website and forms part of our growing and exciting stable of home improvement services.
(PRWEB) May 10, 2010
The UK UPVC conservatory market is about to be seen in a new light, as on-line home improvement specialists LeadCom, have just launched their new website – Clarityconservatories.co.uk.
"Clarity Conservatories is a brand new conservatory design and installation website and forms part of our growing and exciting stable of home improvement services." reveals Andrew Biggs, Technical Director for LeadCom.
Clarity Conservatories offers home owners an opportunity to invigorate their homes and life styles with a superb array of stylish and affordable conservatory design and build options.
Clarity Conservatories has been positioned at the emerging and intriguingly labelled SIFE (Staying-In-For-Entertainment) market. Homeowners in the SIFE market have been sitting tight accumulating their hard-worked earnings since the early days of the recession, which means the residential property market remains stagnated for the foreseeable future despite historically low lending rates.
Staying-In Is The New Going-Out!
However, where one market waivers another opens up. Over the last few years mortgage owners have called time on pub nights-out and flipping properties, by redirecting their social spending and stamp duty fees into quality home improvements including conservatories.
Dull and dingy houses, the like only seen in Steptoe & Son, have been transformed into 5-star designer interiors – worthy of a West End appearance. So newly refurbished, contemporary homes now provide the perfect stage for hosting dinner parties or for just staying-in with a movie!
Indeed, why would you trawl up-town on a rainy Saturday night when you've invested so much of your own money in such luxury?
"The second half of the 'noughties' experienced a new era in home improvements, and despite the challenging economic climate, homeowners are going to great lengths to give their home the wow! factor – the celebrity interior." observes LeadCom co-founder Graham Everitt.
Clarity Conservatories provides an inspired and affordable on-line home improvement service for the home-loving market. Furthermore, Clarity Conservatories looks well positioned to benefit from this continuing trend for modern, spatial interiors, including new build conservatories.
A Room With A View
The redecoration of an existing room is one thing, but a contemporary conservatory from Clarity is something else, offering new architecture and interior space - with a new sunny climate to-boot! For homeowners wishing to enjoy their creature comforts in style, Clarity could be a clear leader of choice.
One can not overstate the impressive transformation a new conservatory can have on one's home and lifestyle. The imagination is clearly stimulated as one browses through Clarity's website product range and completed projects. For example, a Clarity conservatory can invigorate a cramped, old living or dining area by creating a beamed 'walk-thro' opening within an existing wall, which leads to a new, light-filled, spacious conservatory with panoramic views across the garden. Feel the sun's rays, let blue sky sail over and hear the birds sing from the most luxurious yet affordable of home improvements.
The higher end conservatory market is treated to the larger and more daring assortment from Clarity, leaving one genuinely inspired. The P-Shaped conservatory can literally transform a mediocre house into a show home. With its impressive agility to extend and adapt into almost any new area, the P-Shape innovates new life into adjacent rooms while creating its own impressive spatial interior.
However, the pièce de résistance is arguably Clarity's timeless Orangeries, which are a sublime statement for those with aspirations for the finer things in life.
Clarity Conservatories have developed an extensive selection, ranging from affordable sunrooms to the elegant classics such as Edwardian and Victorian, with the chic and roomy conservatories and Orangeries completing an outstanding portfolio. Clarity Conservatories are one of only a few UK conservatory providers taking UPVC into a new era of tasteful and contemporary design.
They have seen the light, and so can you with Clarity. For more information please visit http://www.upvcconservatory.co.uk
###