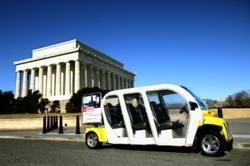 Whether you fancy London or DC this summer, Urban Adventures is your source for unique, local day tours
Washington, D.C. (PRWEB) May 08, 2012
Launching with two unique tours, Washington, D.C. Urban Adventures shows off the U.S. capital in a unique and innovative way: by eCruiser. On both tours, guests are transported across the city in small electric vehicles that afford unparalleled access to the city's famous monuments and exciting local neighborhoods.
"Washington, D.C., puts a great experience out there that hasn't previously been available," says Tony Carne, General Manager of Urban Adventures. "I think many people are surprised to learn the distances you need to walk to cover all of the main sights in D.C. Using the eco-friendly eCruisers means you don't have to walk miles; you spend your time doing the important stuff, all with the helpful expert advice of a Washington, D.C., local. Our Urban Adventures tours give you a great overview of the main sites, as well as the kinds of unique and hidden gems that make all Urban Adventures tours so special."
Washington, D.C. Urban Adventures owners and operators, George and Judy Palmer, first joined the company by leading tours in Annapolis, Maryland, and have taken a unique and progressive approach to day tours in both cities by offering trips in eCruisers. Their tours in Washington, D.C., are different from the norm and their commitment to innovation and responsible travel exactly exemplifies Urban Adventures values.
"We're very excited to see Washington, D.C. Urban Adventures ready for the season ahead," affirmed Carne. "Washington, D.C. Unveiled, which covers the capital's must-see monuments and memorials, sets off daily at 10:00 a.m. Washington, D.C. Today explores local lore in the city's less-touristed neighborhoods of Foggy Bottom, Chinatown and Eastern Market. The trips departs daily at 1:30 p.m. Both tours last approximately two hours and cost US$45."
Across the Atlantic, the big news in the UK capital of London is the announcement of the winners of the search for a new London Urban Adventures partner. Pulled from a pool of very high-quality entries, Paul Fitzjohn and Alicia Sheber were welcomed to the Urban Adventures family. They have already taken the reins of London Urban Adventures.
"I'm so glad we didn't take the traditional route in finding a management team for our London business, and instead put it out there for the whole world to be involved," commented Carne. "We interviewed three incredible candidates and it's safe to say that we wouldn't have found them through a traditional job search. We weren't looking for someone who wanted a job. We were looking for someone with a passion and enthusiasm for travel in general and London in particular. We definitely found that."
Both Fitzjohn and Sheber come with a wealth of experience, Fitzjohn with several years as a Blue Badge Guide and Sheber with a solid background in marketing. They are confident of their ability to carry London Urban Adventures successfully through this busy year of big events.
At the moment, London Urban Adventures has seven tours, including two cycling day tours – one to Hampton Court Palace and the other to Windsor Castle – perfect for a summer pedal in London. There are also several walking tours that visit London's diverse markets, neighborhoods and histories.
"Whether you fancy London or D.C. this summer, Urban Adventures is your source for unique, local day tours, led by some very excited and enthusiastic teams," concluded Carne. "We have a fantastic summer ahead and hope that we can share it with as many 'Urban Adventurers' as possible."
About Urban Adventures
Urban Adventures are day tours with a difference, led by passionate locals who aim to show people a mix of world-famous sites and hidden gems while uncovering back streets, local hotspots, and quirky landmarks. Urban Adventures operates in more than 85 cities worldwide, and supports local communities and the environment through a commitment to responsible travel. Urban Adventures was launched in October 2009 by Intrepid Travel and the WHL Group, and since its inception, Urban Adventures has hosted over 50,000 satisfied travelers.
For more information, visit http://www.urbanadventures.com or contact Tony Carne, General Manager, at tony(at)urbanadventures(dot)com, +61 3 9473 2626.
###