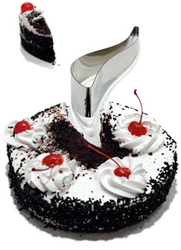 We got rave reviews for the Magisso cake server at the New York International Gift Fair and we think it will be a great product for the holiday season
Montreal, QC (PRWEB) October 7, 2009
Urban Butik today announced that they have started shipping the Magisso cake server in the United States and Canada. This modern classic was introduced at the New York International Gift Fair in August and is now available in North America for the first time.
"We got rave reviews for the Magisso cake server at the New York International Gift Fair and we think it will be a great product for the holiday season," said Anne Foged, President of Urban Butik. "This is a unique piece of art that marries style and functionality. It will be a perfect gift."
"Improving the functionality of an everyday object and, at the same time, making it a thing of beauty is the essence of good design." said Kit Dombrowski, Buyer for the SFMOMA MuseumStore in San Francisco.
"Finally an innovative quality cake server which has been developed from the mind of the customer," said Dave Werner, President of Cookworks in Vancouver. "It takes the lifting and serving of any cake simple and easy with no mess.  A truly thoughtful product."
The Magisso cake server and the Magisso kitchen cloth holder are available online at Urban Butik and at select retail outlets, such as SFMOMA Museum Store; Cookworks; William Ashley; Counterpoint and The MCA Store at the Museum of Contemporary Art, Chicago. A full list of retailers is available at Urban Butik. For retailers looking to carry the Magisso products, please contact Anne Foged at 514-991-9684.
For additional information, contact Jean-Luc Bouchard or visit Urban Butik
ABOUT MAGISSO
Magisso Ltd. is a production house for Scandinavian design and innovations. Our mission is to develop functional and unique kitchenware products that simplify your everyday life.
ABOUT URBAN BUTIK
Urban Butik is a Montreal-based distributor specializing in Scandinavian design products and "Brugskunst" (usable and functional art). The Urban Butik team are constantly on the lookout for new products to expand their portfolio and are working hard on bringing new and exciting designs to market. Urban Butik is the exclusive North American distributor for Magisso.
CONTACT:
Jean-Luc Bouchard
Urban Butik
514-262-9394
Urban Butik
###