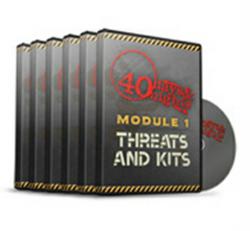 The mental and physical skills that "40 Days and 40 Nights" offer are what truly create ultimate preparedness.
Austin, TX (PRWEB) May 20, 2012
Urban disaster survival skills hold a special importance since the dreadful calamities of Hurricane Katrina, the Japanese tsunami, and all the other severe weather occurrences from recent years. The rise of emergency preparedness concerns has followed, causing many people to think hard about their level of readiness. Not everyone has begun to prepare, but those who have are taking steps in the right direction.
The most recent AbsoluteRights.com article said that they're also seeking out help in their efforts by joining prepper communities, buying products from the newly developed prepper industry, and taking survival courses to learn skills and tactics. Absolute Rights is offering a guide that encompasses all three, and the article said it's revolutionizing the way people approach disaster preparation, especially in urban settings.
"40 Days and 40 Nights" is the definitive training course for survival and recovery from any kind of disaster, said the article. It details the potential dangers we live through every day, and addresses the specific urban survival skills that will sustain safety and good health with no electricity, food, or any other comforts we take for granted.
The article said to think about it this way: Compare living in a rural town versus living in a big city. Which location would give people a better chance of survival? Some would instantly think urban dwellers have a better chance: they're closer to emergency responders and hospitals, they are surrounded by other people, and they have constant access to daily necessities like fresh water and nutritious food. While that may sound smart, the article said it's completely wrong.
Living in a large city creates unique problems that can cause harmful and even deadly situations, the article said. In the case of an earthquake, modern architectural technology notwithstanding, huge skyscrapers and transportation infrastructure can be total destructed. Large population concentrations cause evacuation debacles. Local emergency response plans can't possibly cover everybody in every town.
That's why Absolute Rights is offering "40 Days and 40 Nights;" because it provides people with every technique that will keep them alive in the direst of scenarios. It also enlightens on the supplies and gear that make survival possible. In Japan, for example, disaster protection gear has turned into a booming industry. Last year's earthquake and tsunami put preparedness in the forefront of many Japanese minds.
While collapsible helmets and rechargeable flashlights are helpful, the article said that the best things to have in a disaster can't always be stuffed into a survival kit. The mental and physical skills that "40 Days and 40 Nights" offer are what truly create ultimate preparedness. When urban disaster survival is called upon, Absolute Rights' training course is one of the best resources, said the article.
Absolute Rights informs patriotic Americans on their given rights, plus helps protect those rights from government intrusion. Most importantly, it prides itself on alerting people when their rights are being threatened, creating an active and informed community. For more information, be sure to visit AbsoluteRights.com.