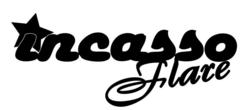 We're just making the styles that we love to rock and looking to identify with the people that feel the same way or want to switch over to it
Flushing, NY (PRWEB) October 16, 2008
On October 8, 2008 the dream of four young entrepreneurs came to fruition as Incasso launched its online store at http://www.incassowear.com. The dream began over three years ago when Rahssan "Magic" Simmons came up with a logo and name for an apparel brand named Incasso. At that point, Incasso was just a design and word on paper, but after teaming up with his brother Manny "Shock" Effort, the two incorporated the name and logo and began selling it on t-shirts and polo shirts. After a few months, daunted by a lack of resources to launch the company correctly, the two shelved the idea.
Two years later, the two brothers met a young entrepreneur named Dan Schwartz and Incasso came back off the shelf. Together, the three minds came up with several designs for sneakers, clothing, and accessories. To test the company's marketability, they decided to make one of their sneaker designs and see how it was received. The design they chose was the Flare, which pays homage to one of the most popular shoes of all time, the Air Force One.
The test shoe was a hit on MySpace, receiving tons of orders from retailers and individuals, praise for its design, and mentions in The Source and SLAM Kicks. The test shoe gave the three entrepreneurs the answer they needed, and they decided to pursue full funding.
Fast forward six months. Clothing designer, Courtland "Ceez" Converse, has joined the team, products have been made, and Incasso has launched to the world.
"We're just making the styles that we love to rock and looking to identify with the people that feel the same way or want to switch over to it," says Daniel Schwartz. "No gimmicks here, we always wanted to only stay true to styles that we rock on an everyday basis as opposed to just someone looking to cash in on a trend that he could care less about, just to exploit it."
Visit Incasso's website to see the current line of Incasso sneakers and clothes. New lines of both shoes and clothing are already in the works, so be sure to check back as the brand grows.
Now that Incasso is live, there will be frequent updates on the current product line as well as upcoming developments.
###