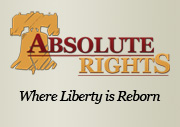 The Special Report shows readers the advantages of bartering when the modern way of buying and selling is rendered obsolete.
Austin, TX (PRWEB) July 24, 2012
Urban survival tips are becoming increasingly important, said a recent online article from Absolute Rights, because such a large portion of the urban lifestyle is dependent on digital information, credit card swipes, and electricity on general.
Should a major disaster, either natural or man-made, destroy the power grid for an extended period of time, the common way of buying and selling things will disappear. Even the most basic essentials like food, water, shelter, and fuel will only be obtained by those who are prepared for transactions with a different kind of currency, said the article.
That different kind of currency involves bartering skills, which the article said will guarantee a productive method of getting the things people need the most. That's why Absolute Rights is publishing its Special Report "Bartering with Desperate People: Bartering and Negotiating in Post-Disaster Survival Situations."
The Special Report shows readers the advantages of bartering when the modern way of buying and selling is rendered obsolete, the article said. Things will revert back to one of the original ways of executing commercial activity, the way of our ancestors before money and plastic credit cards made things so easy.
"Bartering with Desperate People" explains to people what the best items to have that will act as currency in survival situations, so they'll be prepared with the supplies needed for both bartering and keeping themselves alive and safe. The article said people will never look at negotiation skills the same way again if they learn the simple strategies that work influential magic.
The Special Report advises people what to avoid doing or saying while bartering, and how to spot dirty negotiation tricks so they can defend themselves against being taken advantage of.
Absolute Rights informs patriotic Americans on their given rights, plus helps protect those rights from government or disaster intrusion. Most importantly, it prides itself on alerting people when their rights are being threatened, creating an active and informed community. For more information, be sure to visit AbsoluteRights.com.
Unfortunately, the article said desperation leads to dangerous scenarios. People change when they are desperate, and knowing how to deal with their sensitive psychology will allow for more success, said the article.
Though they are useful to have when buying a big screen TV or used car, the article said bartering skills are more important than that. When the time comes, persuasion techniques could save lives. The article suggested accessing Absolute Rights' Special Report and gathering all the urban survival tips they can before a disaster has the chance to strike.