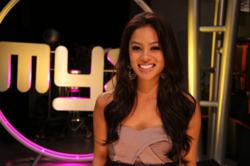 Primetime pops with MYX TV's newly launched show, MYX-Rated.
Redwood City, CA (Vocus/PRWEB) March 22, 2011
Primetime pops with MYX TV's newly launched show, MYX-Rated! MYX-Rated is your one source for everything Asian and everything awesome from trendsetters to the hottest undiscovered talent. Catch the show on Thursdays, 10PM eastern and 7PM pacific.
There are so many niche cultures out there with just as many rabid fans for them. MYX TV is bringing them all together in a new weekly program aimed to broaden everyone's horizon, through MYX-Rated: the first series shot entirely in high definition.
Join hosts Olivia Speranza and Joey Guila as they bring you what's hot on technology, internet trends, music, urban art, fashion, video games, and all things epic into one jam-packed half-hour with the new magazine talker that takes on pop culture with a comedic twist.
Vinyl Addiction
Jesse Hernandez is back with new episodes of Vinyl Addiction, showcasing the best and latest on emerging underground artists behind the world of Vinyl Toys, a worldwide phenomenon with roots in Asia.
Catch the latest episodes featuring industry greats like Kathy Olivas, Jermaine Rogers, Reactor 88 and catch the scenes at the San Diego Comic Con and Fantasy Factory on Wednesday nights at 10PM eastern and 7PM pacific.
Let your B/Vlogging prowess shine!
MYX TV is on a hunt for mini celebrities with big personalities to be the voice of young Asian-America. If your penchant for writing leans towards concerts, fashion, music, current events and trends, we think you should get paid. We're currently searching for b/vloggers to keep our audience up-to-speed on what's happening now.
If you're at least 18 years old, have strong writing skills and are comfortable on-cam, send us a note at myxblogger(at)myx(dot)tv and check our site for more details.
ABOUT MYX TV®:
With its U.S. headquarters in Redwood City, California, MYX TV was developed by ABS-CBN International, a US-based subsidiary of ABS-CBN Broadcasting, the largest media company in the Philippines and among the largest in Asia. MYX TV is the premier music entertainment and lifestyle channel dedicated to the Asian American community, utilizing music, culture and entertainment. MYX TV can be seen on Channel 368 on Comcast's Digital Preferred Tier in the San Francisco Bay Area and Central California and Channel 673 in Chicago, Cox Digital Basic Cable Channel 479 in Orange County and Channel 474 in Northern Virginia, MCV Cable Channel 16 in Guam and RCN Channel 464 in New York City, Chicago, Boston, Philadelphia and Washington, DC. It is available nationwide on DirecTV channel 2067. For more information, visit http://myx.tv.
# # #