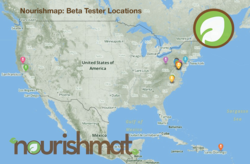 It essentially takes the guesswork out of gardening!
Frederick, Md. (PRWEB) January 30, 2013
Earth Starter, LLC announces the official launch of its flagship product, the Nourishmat. Individuals in 13 different states and the US Virgin Islands were the first to test this gardening tool designed to make food growing accessible to the masses. In the spirit of sustainability and environmental stewardship, the official release of the Nourishmat system and beginning of its beta test process coincided with Earth Day 2012. The beta test stage is now complete and Nourishmats are being manufactured and sold in limited quantities.
Nourishmat is a four by six foot rectangular vegetable gardening system made of high-quality, reusable weed barrier fabric that features pre-cut and labeled spacing holes that a variety of edible plants can grow in. The color-coded sections of Nourishmat take the guesswork out of crop placement and follow an efficient and scientifically tested growing model. This innovative rethinking of basic materials make Nourishmat the only horticultural tool of its kind in production.
Nourishmats, which are manufactured exclusively in the United States, were sent to a diverse range of beta testers, including both expert and inexperienced gardeners, farmers, scientists and families with young children. Results gathered in this test were used in redesigning the product in order to customize Nourishmat more specifically to the diverse clientele that Earth Starter hopes to reach.
The first prototype for Nourishmat was created and tested in April 2011 and has since grown into a more sophisticated product complete with a built-in irrigation system designed to reduce water usage by up to 70% compared to main-stream gardening. The product's beta test process consists of a pool of participants from across the spectrum of the United States' climatic regions in order to gather meaningful data on the product's performance.
Work on creating the Nourishmat began initially as a creative solution to what Earth Starter founders Phil Weiner and John Gorby believe will be the world's most pressing issue in upcoming years: food supply. Empowering a wide variety of persons to embrace food growing will help to reduce dependence on mass-produced food while simultaneously promoting healthy eating.
Both Weiner and Gorby are graduates of the University of Maryland, College Park and, combined, have over 10 years of experience in entrepreneurship, business development and environmental technology.
Nourishmat, developed by Earth Starter, LLC, is an innovative gardening product geared towards empowering people to grow their own food. The patented design and construction of Nourishmat takes the guess work out of gardening. The Nourishmat, which was officially launched on Earth Day 2012, features built-in irrigation, custom-made seed balls and crop-specific spacing guides printed on a weatherproof weed barrier. The product serves as a tool to help busy humans supplement their diets with healthy, homegrown produce and to promote food growing in their communities. To learn more, visit http://www.nourishmat.com.