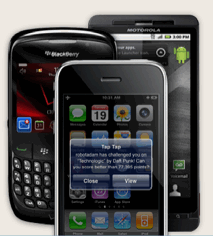 App developers do not care which device a user carries in his pocket. Our customers have been telling us that being able to reach all their end users is their goal.
Portland, OR (Vocus/PRWEB) March 22, 2011
Today, Urban Airship, provider of a mobile services platform that helps developers create more engaging and profitable mobile apps, announces availability of Embedded Push for Android, an end-to-end push notification solution for mobile apps running on the Android platform. Push notifications, among other things, encourage end users to launch their apps and re-engage with the brand. They are in high demand, as evidenced by the more than 2.5 billion push notifications sent on Urban Airship's platform, and are often the primary way that users interact with their devices. With Urban Airship's latest push offering for the Android platform, Embedded Push for Android, developers can offer users these same benefits directly from within their apps.
Embedded Push is an alternate push notification solution to Google's C2DM, the native Android push platform. Urban Airship's Embedded Push operates entirely outside the Google stack, which allows mobile developers using Embedded Push to offer richer features and to do more with notification delivery. Examples of such features in development include "quiet time" customization—allowing end users to define times not to be interrupted—an inbox of past notifications, guaranteed Quality of Service and return receipt. Additionally, Urban Airship's solution gives each app its own open connection that is synchronized to save battery life. The direct end-to-end connection between each app and end user devices allows near-instant message delivery.
As more platforms crop up and as more devices running different versions of Android come to market, developers are challenged to build and maintain the significant infrastructure needed to support mobile features across multiple platforms. The option to offload this sophisticated task to Urban Airship is attractive to many developers, including those behind the roughly ten thousand apps that have integrated Urban Airship and are actively sending messages.
"We're seeing more mission-critical apps with sophisticated messaging needs—in emergency services, in the enterprise—that rely on an always-on, secure mobile infrastructure for message delivery," says Scott Kveton. "Urban Airship has invested heavily in its back-end infrastructure so it can offer developers the robust, scalable and stable messaging-delivery platform necessary to extend the reach of their mobile offerings."
Urban Airship Embedded Push is thus more robust than C2DM and works on versions of Android from 1.7 and newer; C2DM works only on devices running Android 2.2 (also known as Froyo) and newer and requires the installation of the Android Market and a Google account on the device, adding more requirements for developers. According to data from Google, 31.6% of Android apps run Android 2.1. "This is a significant subset of the app market that can't be ignored," says Scott Kveton, CEO of Urban Airship. "App developers do not care which device a user carries in his pocket, whether it's an iPhone, an Android running Froyo or Honeycomb, a Blackberry or a Nokia. Our customers have been telling us that being able to reach all their end users is their goal. Period. Urban Airship serves this need."
The Urban Airship mobile platform will also support in-app purchase on the Android platform. This highly anticipated feature will allow developers to offer additional content to users right within the app by offering simple, one-click billing. In-app purchase is core to many app-monetization strategies, and there has been significant pent-up demand for in-app purchase to become available for Android especially from developers using the "freemium" model. Urban Airship provides one complete client library to give developers access to in-app purchase, subscriptions and push notifications through one API in order to simplify the process.
Android Apps Using Urban Airship
ESPN is one of the most successful brands on mobile. The sports network's flagship ScoreCenter app is a free, must-have application for any sports fan. ScoreCenter alerts deliver sports scores and game updates to app users via push notifications. The app lets individual app users customize their push notification experience; they can choose to only receive alerts about specific teams and sports. For example, baseball fans can set notifications to alert them to updates throughout the game—when it starts, after the 2nd and 7th innings, and with the final score. Urban Airship delivers these sports alerts with Embedded Push for Android.
shopkick is the first mobile application that hands rewards and offers to shoppers simply for walking into stores and malls. It is currently live with a growing network of popular retailers including Best Buy, Macy's, Target, and American Eagle. shopkick recently eclipsed 1 Million Users in just over 6 months, making it the fastest growing location-based retail application. Urban Airship helps shopkick notify its Android users about special deals and rewards.
Other Urban Airship customers include Tapulous, Dictionary.com and Warner Brothers.
Key Urban Airship Facts:

Urban Airship has delivered more than 2.5 billion push notifications across the iOS, Android and BlackBerry mobile platforms.
Urban Airship delivers more than 15 million push notifications each day.
Year over year, the number of notifications Urban Airship has delivered has increased by 1.5 thousand percent (1,555%).
Urban Airship has authenticated and delivered more than 2.5 million purchases via in-app purchase
Customers make an average of 8 thousand in-app purchase transactions per day.
More than 100 million mobile devices are connected to the Urban Airship platform.
Supporting Resources:

About Urban Airship
Urban Airship powers the world's most successful mobile apps. Providing breakthrough technology, Urban Airship makes mobile marketing far more engaging, effective, and efficient. Top brands depend on Urban Airship to ensure their mobile app initiatives are scalable and profitable. Verizon, Dictionary.com, Tapulous, and Warner Bros. are just a few of the thousands of companies that utilize Urban Airship's innovative platform to reach and engage target audiences - and increase app revenue streams. Urban Airship puts the power of influence in marketers' hands through push notification, rich messaging, in-app purchases and data tracking with a cross-platform offering. The privately held company is based in Portland, Oregon. For more information, visit urbanairship.com.
###