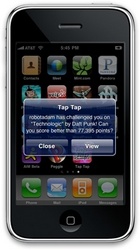 Portland, OR (Vocus) May 18, 2010
Appmakr and Urban Airship announce a partnership to provide rich mobile features for Appmakr's self-service application-making templates. By integrating Urban Airship Push into its app-making service, Appmakr extends sophisticated functionality to hundreds of DIY iPhone app makers who are building native iPhone apps from Appmakr templates and adding customization.
A partnership with Urban Airship allows Appmakr to offer push notifications as a feature in its app-making templates, which help content providers easily mobilize existing content. Once Push is enabled, the apps can send messages or alerts in real-time directly to user devices, even when the applications are not open. Such interactive mobile features are in high demand by users, as evidenced by the more than 350 million push notifications sent on Urban Airship's iPhone platform since Apple announced support for 3.0 push notifications in mid-June 2009.
For Urban Airship this partnership strengthens an already-fantastic relationship with Point About, according to Scott Kveton, Urban Airship CEO. "What we love about Appmakr is that it extends our strategy of making real-time direct messaging accessible. Our tools are designed to save developers the time, money and resources necessary for integrating mobile messaging into their apps. This partnership takes that one step further, making these features accessible to an even broader population."
Urban Airship Push is the first feature to be offered to Appmakr customers. Future iterations will offer media-rich features, including Urban Airship's Airmail, to mainstream app makers. These features not only further the value of apps; they also give app makers a better chance of navigating the App Store's approval process. Reasons given for the app rejections vary, but one thing is clear: app makers need to integrate more features, design options and UI elements to succeed in the App Store.
"We worked with Apple one on one for several weeks to add rich features to our product. They approved our latest templates and granted us the go-ahead to move full steam ahead with our app making framework. One of the content practices that will increase the quality of apps created with AppMakr is push notification. Push notifications are such a perfect tool. They allow app creators to rally their users around events and notices. We are thrilled to partner with Urban Airship and offer this unique service to our clients," says Daniel Odio, Chief Operating Officer, PointAbout.
AppMakr started off as a project for the technology firm PointAbout, but spun off into its own company this January. Appmakr has built more than 3,000 apps for the iTunes store. The founders of Appmakr, which has been used by publications like The Atlantic to build iPhone applications, collaborated with Apple on how best to increase the success of its product.
About AppMakr:
AppMakr is a revolutionary service for making a fully native iPhone application, allowing users can enter a website URL or keywords and create a sample iPhone app in under 30 seconds. Custom app developer PointAbout Inc., who made iPhone apps for The Washington Post, Gannett, Burger King, and others, created AppMakr. PointAbout's AppMakr service has been profiled in TechCrunch, Time, Mashable, MobileCrunch, TechMeme, TECH Cocktail, The Wall Street Journal and The Washington Post.
About Urban Airship:
Urban Airship (urbanairship.com) delivers real-time messages and content to mobile apps on smartphones and always-on devices. Its platform offers a direct-to-person experience that helps mobile publishers and businesses strengthen their engagement with app users, rapidly monetize their apps and develop ongoing revenue streams from existing content. Using its scalable infrastructure and easy-to-integrate tools, businesses and publishers can offload the expensive and time-consuming burden of building and supporting push notifications and in-app purchase functionality onto Urban Airship. The privately held company is based in Portland, Oregon.
# # #