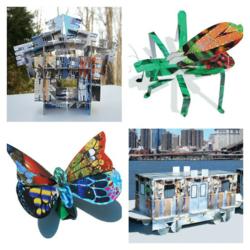 Urban Canvas toys are conceived with the simple idea that what is good for the environment is good for our children, and that what they learn in the arts helps them grow intellectually.
New York, NY (PRWEB) September 18, 2012
A few years ago, art educator, Maria Chee, noticed something interesting while shopping for art and craft toys for her young daughter. As she browsed the endless rows of "how to kits" and "paint by number" sets, she wondered where the art was in all of those arts and crafts kits.
Art is so much more than coloring inside the lines or being able to follow instructions, yet Maria found very few art and craft kits that went beyond it. Where were the open-ended activity kits that enabled children to create unique solutions? Where were the sculpture kits for children? Has anyone ever even told their child what a sculpture is? And why is there so much excess packaging – can this possibly be good for the environment once thrown into our landfills?
With this in mind, Maria created Urban Canvas and developed toys that stimulate artistic thinking and are also environmentally friendly. As the name suggests, Urban Canvas toys are three-dimensional sculptural canvases for children to build, freely decorate, play, and display. They are dual sided, with an inspiring image collage on one side, and a blank canvas on the reverse side for kids to design and decorate. Urban Canvas' first two collections explore themes that excite children's imagination. They can discover the magic of the city with skyscrapers and trains in the City Streets collection, or delve into the wonders of nature with colorful critters in the Nature Trails collection. Urban Canvas toys are sculpted out of recyclable heavy-weight cardboard and the packaging is not only recyclable, but better yet, reusable.
More than just toys, Urban Canvas is a resource for helping parents understand and support their children's artistic development. Information gleaned from years of teaching art to children, (and being a mother), is all available on her website along with a variety of age appropriate art projects. It is updated regularly. In the Share Gallery, parents are invited to exhibit their children's creations as a source of inspiration to others.
Prior to starting Urban Canvas, Maria Chee was an interior designer and art educator. She holds an M.A. in Art Education from Teachers College of Columbia University and a B.A. in Architecture from Barnard College of Columbia University.
About Urban Canvas:
Urban Canvas was created to provide children with an environmentally friendly alternative to traditional plastic toys while preserving the world around us. We promote recycling, reducing landfill waste and increasing the overall health of the planet for our children. Urban Canvas toys are available at http://www.urban-canvas.com and in children's toy boutiques.