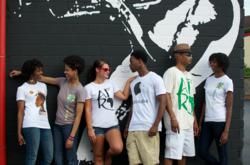 We consider our shirts 'wearable art'.
DAYTON, Ohio (PRWEB) November 19, 2012
Wearable art by Urban Mosaics is a medium with a message ready to be spread far and wide on Black Friday weekend.
The medium is 100 percent organic cotton T-shirts with abstract designs that carry a message promoting the indefinable beauty of natural Afro-textured hair.
"We consider our shirts 'wearable art,' said Stacy Edey, owner and founder of Urban Mosaics. "This is important because we don't use 'regular' graphic designers. We work with original artists."
Renowned sneaker artist Van Monroe of Cleveland, Ohio, created four of the seven designs currently in Urban Mosaics' inventory. Monroe is an extremely talented artist who has done artwork for President Barack Obama, Jennifer Lopez and Ellen DeGeneres among others.
Urban Mosaics' Black Friday Sale, with a 25 percent discount, runs from 12:01 a.m. Friday (just after midnight Thursday) through midnight on Cyber Monday. That's Nov. 23-26.
To get the discount on orders placed through UrbanMosaics.com, enter coupon code BFCM25, which stands for BlackFridayCyberMonday25%.
Edey said it is not coincidence or happenstance that the company is eco-friendly. The designs are printed on 100 percent organic cotton shirts and are shipped to customers in recyclable mailing tubes.
"The T-shirts are on 100% organic cotton because it's symbolic of accepting hair the way it grows out of our scalp, thus being organic," Edey said. "Not chemically processed to make it straight. Therefore, naturally textured hair is organic."
Edey said, "We really pride ourselves on 'Green and Glam' and supporting efforts of sustainability."
A portion of the proceeds is donated to Stivers School for the Arts, as Edey encourages women of all ages to believe in themselves and believe that they can impact positive change in the world through their passions and views.
About Urban Mosaics:
Founded in March 2011, Urban Mosaics is expressionist, wearable art intended to express meaning or emotional experience rather than the physical reality of Afro-textured hair. Urban Mosaics is high-quality clothing and accessory imagery created from a subjective perspective to evoke moods or ideas regarding natural hair. Our mission is to be a catalyst for change by promoting the beauty of textured hair signified by abstract works of wearable art. Our vision is to help create an awareness of the indefinable beauty of natural hair by instilling a paradigm shift in the conscious mind.
To learn more visit Urban Mosaics at http://urban-mosaics.com