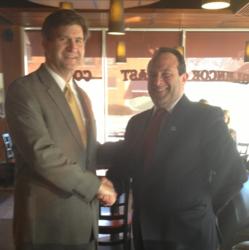 We are the go-to people for real estate issues that effect the legislator. It's really important, and very rewarding
Chicago, IL (PRWEB) May 29, 2013
Urban Real Estate's Director of Professional Development and senior broker, Matt Silver, recently lead the charge on Capitol Hill, strategizing and discussing real estate issues with fellow REALTORS®, as well as state and national representatives. Silver was appointed by the Illinois Association of REALTORS® as an FPC (Federal Political Coordinator) in November 2012. Silver is one of eighteen FPCs in the state of Illinois, assisting our two senators and sixteen representatives.
The National Association of REALTORS® (NAR) set up a program for the FPCs to assist in moving the REALTOR® party agenda forward. "This is not a partisan situation," Silver explains. "This is what's important for our industry and how legislation is going to affect homeownership and private property rights." Silver is the REALTOR® liaison to the 10th district, which is represented by Congressman Brad Schneider. Silver has also assembled a team to help him gather the information necessary to keep the congressman informed. The team includes leading commercial real estate practitioner Whit Heitman of Paine/Wetzel Associates, Inc./TCN Worldwide, REO specialist (bank owned real estate) Chris Vernald of Urban Real Estate, and manager and top mortgage broker of Inland Bank, Mike Chamberlin. "We are the go-to people for real estate issues that effect the legislator. It's really important, and very rewarding." – Matt Silver
The 2013 agenda included 5 hot button topics this year. First, FHA (Federal Housing Administration) is facing scrutiny from members of congress who believe it doesn't belong in the marketplace. Silver explains, "NAR believes it would be an enormous mistake to get rid of FHA. Without FHA, the real estate market would remain absolutely destroyed. We wouldn't be seeing the market recovery that we are seeing now. FHA serves as a counter-cyclical product, absorbing lending needs in times when the market cannot. It functioned as it should, and is self-recovering now; it would be a gross over-reaction to take steps to limit these capabilities. NAR's position is 'Do No Harm'."
Secondly, the restructuring of Fannie May and Freddie Mac is on the table. Silver believes, "Without Fannie and Freddie, there is no government money that can go to the marketplace. If you look at all the mortgages in the United States, 5% of those are privately funded, and 95% of those are securitized on the secondary market. Removing the secondary market that Fannie and Freddie provide would lead to higher interest rates and the end of a 30-year fixed mortgage, our de-facto standard, leaving only short-term adjustable rate products; the very products that lead us down this dangerous path a few years ago. Between Fannie, Freddie, and FHA, it's a very cyclical process."
Another hot topic during the Washington D.C. meetings regarded the capital gains tax exclusion of $250K (for single-member households), or $500K (for married households) when selling one's home. Currently, the equity one builds over years of ownership accrues tax-free up to the exclusion allotments for a primary residence. Silver notes, "There are members of congress that want to take that away."
The Mortgage Interest Deduction, or MID, was also a hot topic. MID has been around since 1913 when the tax code was first written. Silver points out, "There are legislators who want to get rid of every tax loophole there is. Homeownership is not a loophole. If you get rid of MID, regardless of whether the homeowner has a $75K home or a $750K home, you are making homeownership more expensive. This only serves to dissuade our citizens from making what has historically been a solid long-term investment. As a country, we struggle to encourage every American to save for their retirements and to put money away; owning a home is the most basic form of doing this and congress shouldn't be doing anything to hinder that."
Silver also set his sights on the Marketplace Fairness Act, a law that allows states to enforce sales tax collection on products or services sold in that state via the Internet. This has a critical impact on the State of Illinois, which has lost about $212 MM in tax revenue due to Internet sales in the past year alone. The impact on local retailers who are forced to compete with online retailers where customers are not paying the applicable sales tax is having a profound effect. "Local businesses are closing their doors; the very same storefronts that for decades defined neighborhoods and created hubs of vibrant activity for nearby residents, are now empty with broken glass or boarded up windows. This isn't just effecting local business, its effecting housing values all over the city of Chicago, Highland Park, Glencoe, Gurnee, and Waukegan," says Silver. The Marketplace Fairness Act isn't a new tax, it simply allows the states to build systems to collect the revenue that they are owed, and that should be collected.
Lastly, Silver was given the opportunity to discuss local issues that affect Congressman Brad Schneider's 10th district of Illinois. Rural housing is a point of concern for Silver. Currently, the US Department of Agriculture classifies rural towns as having 25,000 people or fewer. There are communities, that by all layman accounts would be considered rural areas, but where the population, regardless of how thinly spread out, has risen over recent years. Silver contends, "They are still rural in nature by how they function, but the government doesn't recognize them as rural. We are trying to help push the threshold up to 35,000 people. This is important because in these areas the USDA provides much of the financing for farm and home purchases; without reclassification, buyers are unable to find financing and entire communities are decimated financially."