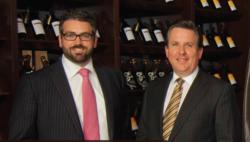 Urban Real Estate offers clients the boutique brokerage experience discerning clients seek, but with leading-edge technology and a web presence that far exceeds any large brokerage.
Chicago, IL (PRWEB) July 09, 2012
In its current issue, Chicago Agent recognized the city's top realtors in its "Who's Who in Chicagoland Real Estate 2012" article. The roster honors producers with "exemplary leadership abilities, admirable work ethics and solid work experience." Urban Real Estate was among the featured brokerages, joining the ranks of this elite group of agents.
Presented in the article are the company's co-founders Matt Farrell and Michael Emery, along with its top producers Matt Silver, Vickie Liu, and Gary Richter. While the article applauds the company's innovative use of technology, it primarily emphasizes the defining reason for the firm's success: its agents. Silver, Liu, and Richter, who comprise only part of the company's dynamic team, are consistently named top producers, each with additional distinctions and awards. Meanwhile, Farrell, the firm's Managing Partner, serves on the board of the Chicago Association of Realtors and is soon to become the Association's President in 2013. Together, his industry expertise and his agents' commitment to their clients earned the company its position on the 2012 "Who's Who" list.