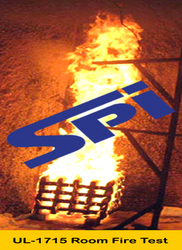 The ability to provide an effective, affordable, and easily applied thermal barrier over spray foam insulation, allows us to offer a major value-added enhancement to an already growing demand for energy savings
Lakewood, WA (PRWEB) May 7, 2008
After years of dedicated research, Flame Seal Products, Inc. is pleased to introduce the first thin film paint-on thermal barrier for urethane foam to successfully pass the UL-1715 Room Fire Test.
The fifteen minute, closed room test was conducted by Intertek Laboratories using a single coat (18 mils) of the Flame Seal Thermal Barrier (Flame Seal-TB™) applied by roller to the urethane foam insulated walls and ceiling.
Specialty Products, Inc. (SPI) of Lakewood, Wash. is proud to be a part of this groundbreaking innovation as the exclusive distributor of Flame Seal-TB™. SPI, a 34 year manufacturer and distributor of polyurethane foam and polymer coatings, recognizes this development as a significant advancement for the urethane foam industry.
President of Specialty Products, Inc., Dan Helton had this to say: "The ability to provide an effective, affordable, and easily applied thermal barrier over spray foam insulation, allows us to offer a major value-added enhancement to an already growing demand for energy savings".
Flame Seal-TB™ contains no Volatile Organic Compounds (VOCs) and is easily applied with airless spray equipment, brush or roller; eliminating the need for expensive application equipment and providing the building owner with an aesthetically pleasing form of fire protection.
To learn more please contact us:
Specialty Products, Inc.
ISO 9001 Certified
Cliff Haskins
V.P. Marketing and Sales
Specialty Products, Inc.
2410 - 104th St. Ct. S., Suite D
Lakewood, WA 98499
(800) 627-0773
(253) 588-7101
http://www.specialty-products.com
###