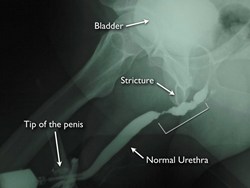 (PRWEB) December 14, 2010
Orange, CA According to Dr. Joel Gelman, an internationally recognized expert in urethral stricture disease and Director of the Center for Reconstructive Urology at UC, Irvine Medical Center, urethral strictures can now be cured with up to a 98+% success rate with urethral reconstruction, including novel techniques recently reported at the 2010 American Urological Association Western Section Meeting. However, Dr. Gelman noted that men with urethral strictures continue to be advised to have their strictures stretched (dilated) or internally cut (internal urethrotomy) without being offered curative surgery as a treatment option.
Urethral strictures in men are areas of narrowing within the urethra, the tube that transports urine from the bladder to the tip of the penis during urination. One of the most common causes of urethral stricture disease in young men is straddle trauma to the urethra under the scrotum, the portion of the urethra called the bulbous or bulbar urethra. Other causes include complications of surgery to repair hypospadias, a birth defect associated with incomplete development of the urethra, and Balanitis Xerotica Obliterans (BXO), also called Lichen Sclerosus, a disease that damages the skin of the penis and urethra. Men with strictures often experience difficulty with urination and a low urine flow rate, but can develop other complications of the obstruction including bladder and kidney damage.
Men with urethral strictures are often initially misdiagnosed as having prostatitis, or benign prostate enlargement (BPH). The diagnosis of urethral stricture disease is made when a Urologist places a small telescope called a cystoscope into the urethra and sees an area of narrowing that prevents the advancement of the scope into the bladder. Complete diagnostic imaging of the urethra then defines the exact length and location of the stricture. However, according to Dr. Gelman, the majority of men with urethral strictures are only initially offered painful office dilation of the urethra or outpatient internal incisions, procedures associated with a very high recurrence rate, and not the option of definitive surgical repair. Dr. Gelman reports that when the strictures recur, these procedures are often repeated over a period of many years. In some cases, patients are advised to dilate themselves with catheters (rubber or latex tubes) to manage the blockage on a regular basis without being advised that urethral reconstruction, called urethroplasty, offers the promise of a cure. One man had 31 failed internal urethrotomy operations before he was referred to the Center for Reconstructive Urology for curative treatment with definitive open repair.
"Since we are a tertiary referral center for urethral stricture disease, we see hundreds of men with this disorder. In the past, it was considered best practice to dilate and cut the urethra over and over to avoid open surgery at all costs. Therefore, men with strictures often suffered with this disease for years without being advised that a single properly performed surgery can permanently cure the disease. However, our current research results confirm that for longer strictures or after there is a recurrence with a single dilation or internal urethrotomy, open repair should be performed. Open urethroplasty requires special expertise and those who do not exclusively specialize in male reconstructive surgery often fail , causing the complication of a recurrent urethral stricture that then requires a re-do surgery. Therefore, this surgery is best performed by a Urologist exclusively specialized in urethral reconstructive surgery" - says Dr. Gelman.
At the Center for Reconstructive Urology, surgical techniques to definitively repair the urethra now offer a greater than 98% cure rate, including new innovative techniques presented by Dr. Gelman at the American Urological Association Annual and Western Section Meetings this year. These innovative techniques allow even long and complex recurrent strictures to be repaired using grafts from inside the cheek called buccal mucosa to rebuild the urethra where there is stricture disease. Men with urethral strictures no longer need to be managed with repeated procedures as they can now be cured with a single safe and effective operation.
Dr. Gelman is the Director of the Center for Reconstructive Urology at the UC, Irvine Medical Center and the only Urologist in Southern California who is fellowship trained and exclusively specialized in male urethral and penile reconstructive surgery. More information about the urethral stricture disease can be found at http://www.centerforreconstructiveurology.org
###