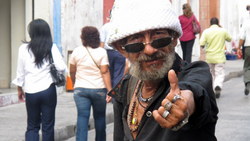 It is not the critic who counts, not the man who points out how the strong man stumbled, or where the doer of deeds could have done better. The credit belongs to the man who is actually in the arena, whose face is marred by dust and sweat and blood...
Rockport, TX (PRWEB) June 23, 2010
It's Real and it's Raw. U R FREE2B U's founder Ryan Teixeira, extreme sports enthusiast and early Tesla Motors battery pack engineer (employee #24) found a way to walk away from the career life most people dream to achieve, he lives a surfer's life and now he is giving back in a unique way.
U R FREE2B U provides extreme multi-sport adventures for men ready to get their life back on track, to discover their inner man and encourage a lifestyle shift of freeing oneself from material things, such that one can be free to live life to its fullest; their adventures are a quick fix to the long term problem of finding a way to live a meaningful life.
The first to commit to the June 23rd event was Sherman M. He is the second person to sell it all after being inspired by Ryan's blog lifwithoutashirt.com that documented his exodus. Wayne B. was the second on board; as a young man, Wayne has learned from his terminally ill family member and a recent brain tumor to live now, not later. David G. is a law student who signed up after one visit to the site, no phone calls and who can be quoted, " The second I saw this, I knew I had to be involved."
Quoted from the recent Tribal Surf Interview as to why do this, Teixeira stated, "I wanted to give people the same opportunity I gave myself; to discover the world, to discover yourself and have a blast doing what you love...like surfing, biking, climbing."
However, it's not all about adventure. The Website, Newsletters, Blog articles and Facebook Fan Page also encourage a lifestyle shift, filled with useful articles and tips on how to live a meaningful life. Teixeira pushes "Practice Courage", want less/have more, sell your stuff, don't work so hard for "things" and if you do this, you will discover the freedom to live the life you always wanted. Which is exactly what Teixeira did this past year.
The group will connect with a local school to give their bikes to impoverished kids somewhere in Colombia or Ecuador. Teixeira recently rode nine hours from Nicaragua to a Costa Rican bike shop so they could fix his Schwinn and give it to Franklin. Franklin was a local kid who walks 6km to work and his father recently passed away. Franklin got a new bike (See Video).
The 21 Day Adventure starts June 23rd in San Juan Del Sur, Nicaragua where ironically the 2010 Survivor reality TV show is currently being filmed, is over 2000km in length and filled with surfing, mountain biking and riding chicken buses through five Central America and South American countries.
The adventures are a day-to-day toss up of figuring out the basics of food, shelter and where to go; the big unknown is what will happen when they hit infamous Darien Gap.
Each week of the 21 day trip, Live interviews with the adventurers will be held online. Please contact Kenda Morrison for more details. kenda(dot)k(dot)morrison(at)gmail(dot)com
# # #