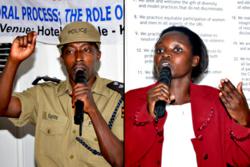 Allowing the groups to be heard by one another was a very big step in clearing up misconceptions and overcoming prejudices
San Francisco, CA (Vocus/PRWEB) February 11, 2011
On January 4th in a hotel conference room in Kampala, Uganda, youth political leaders and leaders of Uganda's security forces came face to face for a highly unusual meeting: a national consultation to prevent violence in the upcoming elections on February 18.
In previous years, elections have been marred by deadly clashes between youth and security forces, resulting in mutual distrust and popular disaffection with the electoral process. Complicating matters this year is the formation of ad hoc youth "security" forces that have no clear purpose or uniform code of conduct.
This breakthrough meeting in Kampala was part of an ongoing campaign by the Great Lakes Regional office of United Religions Initiative (URI) —a global grassroots interfaith organization based in San Francisco, California—with support from the Open Society Initiative for Eastern Africa. It capped a series of local district meetings aimed at building trust and finding ways for the two groups to work together.
Speaking before their interfaith hosts and the chair of the country's electoral commission, each group aired its grievances: Youth felt sidelined, targeted and treated unfairly; the police and army saw the youth as pawns of politicians, forceful, unpredictable and provocative.
"Allowing the groups to be heard by one another was a very big step in clearing up misconceptions and overcoming prejudices," said URI Regional Coordinator Despina Namwembe.
And by the time the meeting was over, the two groups had come to an agreement, committing to disbanding the youth brigades and other related militia groups; promoting balanced media coverage; instituting community policing; and educating the public about the role of security agencies.
In the final weeks before the election, URI Great Lakes is stepping up the campaign, sending peace ambassadors—youth, police and religious leaders—to violence-prone areas; reaching out through the radio and other media with messages of peace; and spreading hope that February 18 will begin a new era of civility.
For more information or to arrange an interview, please contact Julian Foley at jfoley@uri.org.
About URI
URI is a global network of 500 grassroots organizations, called Cooperation Circles, dedicated to peace and justice through interfaith and cross-cultural cooperation. Its nearly half a million members are overcoming distrust and hostility every day for the good of their communities—mediating religiously motivated conflict; building schools, orphanages and health clinics; campaigning for citizenship rights and more in 78 countries. They touch the lives of an estimated 2.5 million people. The network is led by Executive Director Charles Gibbs, President William E. Swing, and Yoland Trevino, chair of an elected 29-member Global Council of Trustees from 19 countries.
Visit http://www.uri.org for further information on URI's projects in:
Africa
Asia
Europe
Latin America and the Caribbean
Middle East and North Africa
Southeast Asia and the Pacific
North America
Contact: Julian Foley
jfoley(at)uri(dot)org
(415) 561-2300 ext. 32
###